The Euphonium Collective



Ebony, Ivory & Brass


Available now, the C.D. of live recordings from St. Mary's.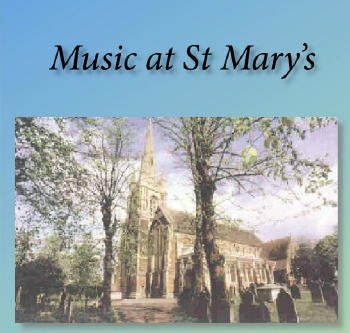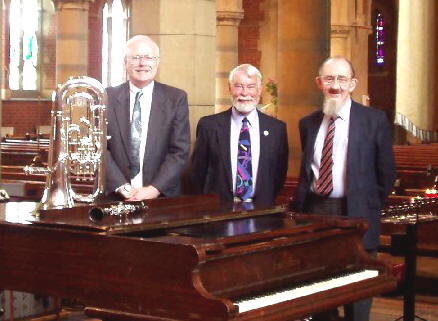 Introducing...............
Charley Brighton Euphonium
Neil Benson Clarinet
John Burrows, Piano







How it all started.....................February 2002.

After many years with English brass bands, the change to wind band music was quite refreshing and I was interested in how the euphonium was not only scored, but also blended with high woodwind instruments.
There seemed to be quite a few moments when the instrument was accompanying Flutes, Clarinets and Oboe, sometimes as the only bass part. Often playing Bassoon cues also gave different sounds as well.

Since joining the B.B.C. Elstree Wind Band, based at London's Maida Vale Studios, I have had the chance to mix with a very high standard of performance and also of getting to play many classic original scores, such is the quality of their music library.

Over the past 2 years or so, I have been promoting my own series of euphonium recitals with piano (and organ) at our local church, St. Mary's Parish Church in Slough, Berkshire England. The church has beautiful acoustics, ideally suited to brass playing and a powerful Norman & Beard organ built in 1912.

In addition to original works for the euphonium, I try to include music from as many other repertoires as possible in my programmes, viz. woodwind, string and voice, and it was after playing the Schumann Romance op.94 no. 3 for Cello that I was invited to play in a classical trio by clarinettist, Fritz Steiger.

I had previously arranged Mozart's Eine Kleine Nachtmusik for 2 Clarinets, Baritone & Euphonium as a 'party piece' for a concert, and was pleased with the result. The lower register of the Clarinet (Chalumeau) mixing well with the brass instruments.

Fritz had played trios for many years until a dear friend and fine Cellist passed away. As a gift, all of his music was left to him, so, would the euphonium fit the role?

As I was keen to play all types of music, we agreed to meet one Sunday afternoon to try some works by Mozart, Beethoven and Max Bruch. Fritz and I had played duets together before so were comfortable with each over and the fine pianist, John Burrows had also played for me in a recital some years ago.

The Beethoven (op.11) worked well, the Cello part requiring only minor changes from the original. The Mozart (KV 498) was more of a problem as it was originally for the Viola, in Alto Clef and pitched quite high.
With some re-writing and octave adjusting, we seem to have solved that problem and it sits quite well, though still fairly high on the instrument.

It was a pleasure to learn works by Max Bruch, not having played any of his compositions before, they were immediately appealing, despite most being in very sharp keys !
We went away happy, convinced that it would go well in front of an audience and set about planning a public concert.

With Fritz's impending move to the North of England, Neil Benson stepped in (who was already familiar with the Mozart) and we immediately commandeered his sitting room and piano for rehearsals. Neil had played with many fine wind bands and also the Hull Philharmonic Orchestra.
However, if we were going to present this combination to the public as a classical trio, I needed to do some studying.

It was not just a matter of learning the Cello / Viola parts, the playing style was going to be different. Sforzandos on strings are completely different to brass and the amount of vibrato used on Cellos would not work at all on the euphonium.
The florid semiquaver passages had to loose their Arban – like approach that is drilled into you from schooldays, and the faster passages in the music would have to be carefully set to adapt to the acoustic if the Church.
So it meant a few hours of listening to the original recordings, particularly the long string phrases which obviously presented breathing problems.

With only weeks to go, we stepped up rehearsals, and played to friends at musical gatherings to get a feedback on sound and style etc.
The concert was announced boldly as Ebony, Ivory and Brass, with the programme given in advance. The audience had to be prepared for something familiar, yet slightly different.

Our church organist Malcolm Stowell and pupil Louise Willis agreed to fill in the rest of programme with equally fine organ music.

The concert was received very well, with the music appealing to most of the audience (we were on a safe bet with these two pieces anyway!) and bookings for an August concert have been taken already.


2nd. Concert, August 10th.

For this lunchtime recital, we had been busy working on a little known trio by Archduke Rudolph of Austria, and a piece by Max Bruch, Rumanische Melodie.

Archduke Rudolph studied composition under Beethoven and left a large number of fine compositions. It can be assumed that he studied under Beethoven during the years 1805 - 1812 and from the detailed corrections which his master made, it became apparent that Beethoven gave his pupil special attention.

Beethoven's influence is evident in Rudolph's Trio particularly with regard to rhymic and dynamic aspects. This edition is based on the autograph which is located in the Moravian Museum.Since it has been assumed the work is incomplete because only a few bars of the Rondo remain, the Editors felt justified in letting the work end with the set of variations, rather than the Scherzo.

The German composer Max Bruch, is perhaps best known today for his 3 Violin Concertos, the Scottish Fantasia and the Cello Rhapsody Kol Nidrei.

His chamber music is in general, not particularly well known. The 8 Pieces for Clarinet, Viola & Piano Op.83, written in 1910, are amongst the most sophistacated of his genre. The pieces, all but one in the minor key, reflect a sensitive and emotional romantiscism, with the rich characteristic timbres of each instrument being utilised to full effect.
Bruch's interest in folk music was in evidence in this piece we featured, number 5 of the set.



Sadly, John Burrows died on Thursday, November 14th. 2002.



Links to Other Sites.

Celebration Brass Ensemble

The B.B.C. Elstree Concert Band

For Dog Lovers Only !

Euphonium Pictures

Music Links


Email us here


DS Al Fine