Concerts in 2019
Concerts in April 2019
6th. Thea Cramp, flute with Peter Arnold, piano
13th. Jonathan Rowe, piano
20th. Malcolm Stowell, organ
27th. Songs from the Shows 8, Charley Brighton, Euphonium & Malcolm Stowell, piano & organ
Concerts in May 2019
4th. Catherine Leonard, piano
11th. Priory School Chamber Choir conducted by Tessa Shaw
Please note change of start time for this next concert only: 11.00am - 12.15pm
18th. Caldicott School Presentation
25th. Euphonium Recital, Charley Brighton with Malcolm Stowell, piano & organ
Concerts in June 2019
1st. tba
8th. The Cameo Consort
15th. Carole Sevestre, piano
22nd. Songs from the Shows 9, Charley Brighton & Malcolm Stowell
29th. tba
Concerts in July 2019
6th. Chorate Chamber Choir, conductor Nigel Wills
13th. David Oldfield, organ
20th. Waltham Madrigals, conductor Simon Shaw
27th. Jonathan Rowe, piano
Concerts in August 2019
3rd. Catherine Leonard, piano
10th. Paul Carr, organ
17th. Charley Brighton, Euphonium with Malcolm Stowell, piano & organ
24th. tba
31st. James Paget, organ
Concerts in September 2019
7th. David Butler, organ
14th. Piano Duets, Henry Macey & David Darby
21st. The Cameo Consort
28th. David Oldfield, organ
Concerts in October 2019
5th. Anthony Gritten, organ
12th. Chorate Chamber Choir conducted by Nigel Wills
19th. Catherine Leonard, piano
26th. Jonathan Rowe, piano
Concerts in November 2019
2nd. John Halsey, Harpsichord
9th. Euphonium Recital, Charley Brighton with Malcolm Stowell, piano & organ
16th. tba
23rd. Ian May, organ
30th. Gary Jordan, classical guitar with Carole Sevestre, piano
Concerts in December 2019
7th. Seasonal Concert featuring Local Artists
14th. James Paget, organ
21st. tba
28th. Henry Macey, organ
Concerts in 2020
Concerts in January 2020
4th. tba
11th. tba
18th. Waltham Madrigals
25th. Carole Sevestre, piano
Concerts in February 2020
1st. tba
8th. Henry Macey, organ
15th. Charley Brighton, Euphonium with Malcolm Stowell, piano
22nd. Jonathan Rowe, piano
29th. Chorate Chamber Choir

More concert dates in 2020 to follow





WITH MANY THANKS TO ALL* OUR PAST PERFORMERS
(*As of April 2019)
David Abrahams, Andrew Adams, Aishling Agnew, Hannah Allchin-Kolyzska, Peter Arnold, Brenda Arnold Day, Rebecca Avern
David Baker, Katie Baldwin, Peter Bale, Andrew Barratt, Samantha Beck, Rebecca Bell, Neil Benson, Anya Bensouiah, Allan Berry, Frances Birch, Sally Blonet, Julia Booker, Luke Bond, David Border, Keith Bosley, Theresa Boundy, Daniela Boyd-Waters, Charley Brighton, Susan Brighton, Colin Bromelow, Mariko Brown, Stephen Brown, Iain Brunt, Andrew Buchanan, Guy Bunce, Louise Bunce, Carla Burgess, Felicity Burrell, John Burrows, David Butler


Ivor Caley, John Campbell, Nigel CampbellShuann Chai, Jamie Chandler, Raymond Charlton, Sandy Chenery, Geoffrey Chew, Steven Christmas, Christopher Cipkin, Sandy Clare, Relf Clark, Richard Coltart, David Colthup, John Coombs, Thea Cramp, Jean Coward, Michael Crowther


David Darby, Guy Davis, Sally Day, Ron Denman, Tony Dickinson, Stephen Dilley, Eleanor Dunsdon, Martin Dunsdon, Susan Dunsdon


Christiane Edel, Naomi Edemarian, David Edwards, Jacqui Edwards, Marilyn Elliot, David Elliot-Smith, Mark Ellis, Rosie Ellis


Frances Faulkner, Yu-Fen Lin, Elissa Field, Biranda Ford, Susan Fowler, Nigel Fox, Robert Fone, Elizabeth French, Anthea Fry, Valerie Fry


Roxana Galasean, Nadia Giliova, Elaine Goodman, Sally-Ann Goodworth, ChloŽ Goulding, Kate Grace, Sebastian Grand, Linda Groves, Emma Grimsey, Antony Gritten


John Halsey, Joanna Hamilton, Corrinna Hang, Martin Harman, Jennifer Harper-Jones, Jeanette Hartley, Bella Hartmann, Martin Harvey, Laura Hay, Shola Hector, Joanna Henwood, Feargus Hetherington, Lara Heywood, Christine Hoare, Helen Hobson, Janis Holmes, Ruth Hopkins, Rosemary Hopkinson, Alison Horriben, Andrew Horton, Jessica Horwitz, Thuy Houang, Simon Howat, Robin Howles, John Humphries, Robert Hunter


David Iggleden, Matthew Ingram, Graham Ireland


Philip Jaquest, David Jewell, Kate Jewell, Matthew Jewell, Michael Jewell, Samuel Jewell, Sylvia Jewell, Christina Jordan, Gareth Jones, Graham Jones, Gary Jordan

Miyuki Kato, Saara K.C, Christopher Kent, Ben Kearsley, Antonia King, Rebecca Kistler, Martha Kneebone


Robin Langdon, Karen Larkin, Annabelle Lawson, Catherine Leonard, Hannah Lewin, Yu-Fen Lin, Eileen Lock, Robin Lock, Steven Lock, Paulina Lubez, Tara Lynch, Roger Lyon


Helen Macey, Henry Macey, Alan Mann, Robert Marsh, Nicholas Martin, Ian May, Tony McAlden, Matthew McAllister, Joyce McAvoy, Edward McCall, William McDonald, Christopher Mead, Matthew Miell, Elizabeth Mikellides, Damien Miles, Karen Miles, John Money, James Mooney-Dutton, Mary-Clare Morris, Eros Mungal, Lauren Murtagh, Roger Musson


Brian Neal


Margareta O'Connell, David Oldfield, Catherine Orton, Michael Orton, Tony Osbourne, Fumi Otsuki


The Queen's Six, James Paget, Tim Parker, Andrew Piggott, Susan Piggot, Eileen Pinkarchevski, Daniel Plant, Elizabeth Povey, Lilla Price, Mariama Price


Matthew Ratclffe, Richard Ratcliff, Len Rawle, George Reid, Paul Rickard, Mark Robbins, Rosewood Guitar Trio, Matt Ross, Maddy Ross-Malson, Jonathan Rowe, Charlotte Rowland


Mari Sakata, Gillian Salmon, Satu Salo, Emma Sanerkin, Teilhard Scott, Alex Seedhouse, Carole Sevestre, Phillip Shannon, Sonia Sidhu, Edward Small, Martin Smith, Emma Sparrow, Jonathan Sproule, Stacey Starr, Fritz Steiger, Tamara Stein, Ian Stewart, Elaine Stowell, Gerald Stowell, Malcolm Stowell


David Taylor, Louise Taylor, John Tebbit, Graeme Thewlis, Michael Thomas, Andrew Thompson, Kate Thulborn, Peter Toye, Benjamin Tubb, Donna Tubb, Maija Tuomi-Nikula


Peter Vaughan, Alessandro Viale, Neil Venus, Ruth Venus


David Wade, Richard Wade, John Walker, Suzie Walker, Mark Wallace, Waltham Madrigals, Hannah Watson, Christine Wells, Andrew West, Richard West, Philip Wharton, Douglas Whates, James White, Lorna White, Stuart Wild, Jessica Wilding, Libby Wilding, Audrey Williams, Lucy Williams, Louise Willis, Paul Willis, Stephen Willis, Dennis Wise, Roy Woodhams, Jennifer Woolashin, Louise Wright, Naomi Wright

Ensembles;


Berkhamsted Young Musicians, Brian Neal Light Jazz Trio

Caldicott Boy's School Choir, Cameo Consort, Capriccioso Low Brass Quartet, Celebration Brass Ensemble, Chorate Chamber Choir

East Berkshire Branch of The Society of Recorder Players

Freedom Brass, Forest Voices Chamber Choir, Freedom Brass Ensemble

Imperial Piano Trio

Little Phoebe Brass Quintet, London Welsh Camerata

Marysyas Trio, Monday Madrigalists

Neil Benson Trio

Opus 4 Saxophone Quartet

Priory School Chamber Choir

Reading Minster Mid-Week Choir, Rutgers University Chorus, USA

Salem Trio, St. John's Choir Farnham Common

Voices Anon, Voices in Harmony

Windsor Brass Collective, Windsor Festival Brass



The C.D. of recordings live from St. Mary's.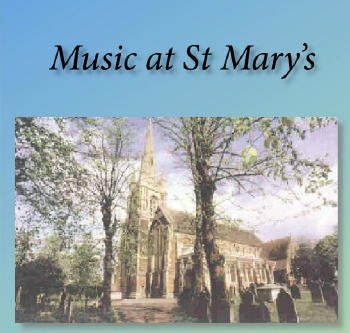 Track 1; Englandís Glory, Nigel Ogden, Malcolm Stowell, organ.
Track 2; Danse, Claude Debussy, In memoriam, John Burrows (d. 14/11/2002) piano.
Track 3; Bird Song at Eventide, music by Eric Coates, lyrics by Roydon Barrie, Roger Lyon, bass, with Malcolm Stowell, piano.
Track 4; Aka Tombo (Red Dragonfly), Kosaku Yamada, arranged by Philip Kim, Charley Brighton and Malcolm Stowell, piano.
Track 5; Intermezzo (Forget-Me-Not), Allan Macbeth arranged by Alfred J. Eyre, Ian Stewart, organ.
Track 6; The Girl With The Flaxen Hair, Debussy, The Windsor Festive Brass Quintet.
Track 7; Toccata, movement 4 of Suite Gothique, Leon Boellmann, Henry Macey, organ
Track 8; Hereís That Rainy Day & Love is Lovelier (the second time around), Johnny Burke & Jimmy Van Heusen, Peter Vaughan, piano
Track 9; All In The April Evening, Hugh Roberton, The Capriciosso Low Brass Quartet.
Track 10; Trumpet Voluntary, Gordon Young, Louise Willis, organ.
Track 11; Organ duet; Fugue in D minor, Johann Kellner, played by Malcolm Stowell & Louise Willis.
Track 12; Gratias Ago, Guy Bunce, Louise Taylor, flute and Guy Bunce, piano.
Track 13; Meditation, Frank Bridge, Mark Robbins, violin, with Guy Bunce, piano.
Track 14; Elsaís Procession To The Cathedral, from Lohengrin, Richard Wagner, The Celebration Brass Ensemble & Malcolm Stowell, organ.


Programme compiled by Malcolm Stowell.Recorded and mastered by Charley Brighton & Mark Robbins.
For orders, Email us here.




Live Recordings from St. Mary's;
Played by Charley Brighton, Euphonium, with Malcolm Stowell, Piano. Click here






The Rutgers University Chorus from Newark, New Jersey, U.S.A.
with their conductor John Floreen visted St. Mary's for a wonderful concert.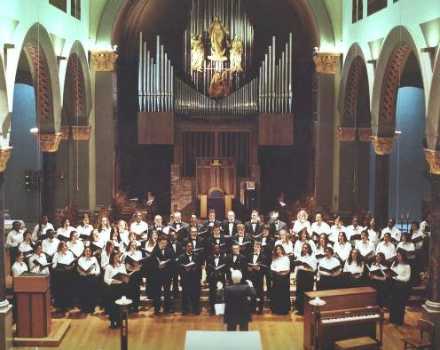 Celebration Brass commenced the proceedings with Fantasia by John Wilbye, as a double brass choir at opposite ends of St. Mary's Church.
Charley Brighton was the featured euphonium soloist with Malcolm Stowell on piano, in two numbers from West Side Story, Maria & Tonight.
Organ recitals were given by Malcolm Stowell, Louise Willis and Brenda Arnold Day (U.S.A.). Brass and choir closed the first half of the concert in special arrangement of Elsa's Procession to the Minster, from Lohengrin, by Wagner. The finale to the concert was the combined forces of band, choir & organ in Gerre Hancock's Song to the Lamb and Vaughan Williams Old Hundredth, conducted by John Floreen.
The featured brass players were; Soprano cornet, Robin Lock, Flugel Horns, Eileen Lock & Shirley Drake, Baritones, Susan Vel & Kate Thulborn, Euphonium, Andrew Barratt & Tuba, David Elliott-Smith.





An amazing concert of classical guitar music was given byMatthew Mc.Allister





About the Concerts.

In January 1990, Malcolm Stowell (Chairman of the