The Euphonium Collective



Great British Low Brass

Sections of the Past
Page one, bands A - F (Click here to go to page two, bands F - Z)

These are pictures of past great bands & players, including of course, the euphonium & baritone sections.
In alphabetical order of bands, most of the pictures are from long deleted L.P. record covers.
I have tried where possible, to get the best results from scanning, but the dpi of these album covers does make it difficult.





Here is Harry Mortimer's famous All Star Brass Band taken for a photograph for the Paxton records catalogue.
I would love to get the full list of names of all the players shown, but here's what I know so far;

4th.(back) row, left to right; 2nd. left Derek Garside (C.W.S.), 6th. from left, Norman Ashcroft (Fairey), 7th. from left Robert Oughton (Carlton Main).

Row 3, 2nd. left Arnold Hall (Fairey), 6th. left Ken Dennison (Fairey), 2nd from right, Teddy Gray (Fodens).

Row 2; 3rd. from right, George Dawson.

Row 1 (front); Ernest Keaton (Black Dyke), 6th. left Wilf Mountain (Fodens & C.W.S.), 7th. left George Sayer & 8th. left Harry Mather. 3rd. from right John (Jack) Iddon,
far right Ted Swindles (Fodens).





This band started from a family quartet, the Priors, The Aldershot Brass Ensemble. Taken from an L.P. featuring music composed, arranged and conducted by Ronald Binge.
Brian Taylor gives a fine performance of Variations on Alouette on euphonium.

The players are;
Solo Cornets; Gerry Nicholson, Marilyn Prior, Ray Taylor (later Soprano), Paul Maple Adrian Fox, Alan Gibb (Soprano).
First Cornets; Roy Fellshaw, Mike Davies, Micheal Herd.
Second Cornets; Ray Maple, Jack Read.
Third Cornets; Tony Smith, Derek Greenwood, Michael Trebble.

Horns; Bruce Gentry (Flugel), Robin Prior, Georgette Tolley, Anne Gentry.
Baritones; Len Marsh, Charles Crowstone.
Euphoniums; Brian Taylor, Harry Harrison, Ron Walker.

Trombones; Lee Prior, Mick Bolton, Brian Rossier.
Basses; Phil German, Cliff Rush, John Blight, Thomas Williams.
Percussion; Ron Beards, David Newnham.
Conductor; George Prior.

I had many happy years with this band, then the Alder Valley Aldershot Brass. Conducting the band then was Clive Ruberey, a very fine euphonium player himself.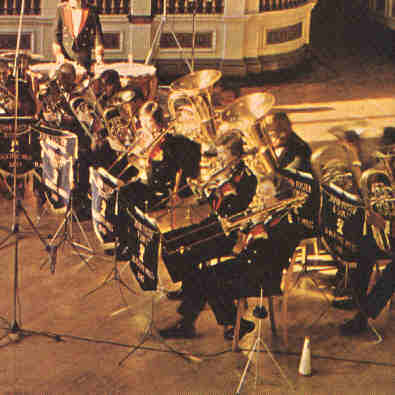 Here are the low brass of the famous Black Dyke Mills Band in a recording session
for Chandos at St. George's Hall, Huddersfield, 1976.

This was a Christmas album with the Huddersfield Choral Society (conductor Keith Rhodes) and Roy Newsome conducted the band.
Amongst the players are Frank Berry on solo trombone, John Clough on solo euphonium,
George Morgan on E flat bass and Derek Jackson on B flat bass.




Taken one year earlier, Black Dyke Mills Band feature again in a picture
from the L.P. sleeve " The Concert Sound " where the conducting was shared by Geoffrey Brand & Roy Newsome.

Featured right to left are; John Clough, Brian Broadbent, Colin Hardy & John Slinger
John Clough played Hartmann's Rule Britannia variations on this disc.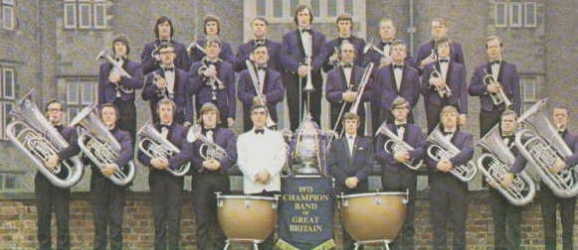 The National Champions of 1973, Brighouse & Rastrick Band with conductor James Scott.

This picture was used on a Decca recording, the low brass, front row left to right are;

David Badham ( B flat bass ), George Morgan (E flat bass),
Martin Eastwood (2nd. euphonium), John Clough (2nd. baritone),
Sheridan Fryer (1st. Baritone), Robert Davidson (solo euphonium),
Harry Pickering (E flat bass) & Les Beevers (B flat bass).




The National Champions of 1968, Brighouse & Rastrick Band conducted by Walter Hargreaves.

This Polydor album featured Lyndon Baglin playing Stanley Boddington's variations on Long, Long Ago.
Low brass, front row, left to right are;

Bob Davidson (B flat bass), Derek Horsfall (E flat bass), Ken Bridge (2nd. euphonium), Lyndon Baglin (solo euphonium),
Harry Pickering (E flat bass) & Les Beevers (B flat bass).

I had the pleasure of playing alongside Lyndon Baglin & Derek Horsfall whilst with the Sun Life Stanshawe Band in Bristol in the early 1980's.




The National Champions of 1974, The Cory Band conductor Arthur Kenny.This Decca L.P. cover was in the Sounds of Brass series,
pictured front row, left to right;

Alan Cleary (B flat bass), John Trotman (E flat bass), Roy Roberts (2nd. euphonium), George Davis (solo euphonium), Hugh Williams (E flat bass) & Graham Sheppard (B flat bass).
The baritones featured are Ivor Roberts & Huw Jones.

George Davis was featured playing the Langford Endearing Young Charms. Roy Roberts (a fine player) played principle for a while when George Davis left and Hugh Williams was featured as an outstanding tuba soloist on many concerts and recordings.




The National Champions of 1963, The C.W.S. Manchester Band conducted by Alex Mortimer.
shown here in a newspaper advertisement for Besson instruments.
Pictured holding the trophy are principle cornet Derek Garside and principle euphonium Lyndon Baglin.
Baritone player Bryan Birchall is just behind the trophy.
This band to me, was one of the all time greats, often given amazing performances of great technical ability and musicianship.
Alex Mortimer himself of course, was one of the finest euphonium players of his day.





From an album cover in 1968, The C.W.S. Manchester Band conducted by Alex Mortimer.
This picture was taken on the London Victoria Embankment Gardens bandstand where brass bands were regularly featured in those days.

Pictured here on euphoniums are Robert Richards & Peter Gill, and on baritones, Anthony Ryan & Andrew Spencer.




Back to the champions of 1962, The C.W.S. Manchester Band conducted by Alex Mortimer. This group picture comes from their Force of Destiny L.P. on the Fontana label.
Shown here are (basses left to right);
Joe Poole, Jack Phillips, Harold Lang & Joe Hughes. Baritones; Arthur ? Cyril Howarth, Euphoniums; Lyndon Baglin & Syd Poole. Horns; Barry ? Brian Birchall & Haydn Harris.

I am extremely grateful to Bob Mc.Dowell (ex euphonium & trombone) for identifying players in the C.W.S. pictures.




One of the earliest recordings of The C.W.S. Manchester Band conducted by Alex Mortimer, dates from 1959!
This Fontana L.P. featured Cyril Jenkin's Life Divine. The list of players includes;

Soprano; Alan Grundy


Alan writes; "My nick name in the band was Snowy (blonde hair) so not many people referred to me as Alan Grundy. I am just out of sight behind Derek on the top shot, much to my annoyance at the time as I recal! I joined the band around 1957 on Soprano at the age of 15. At some stage later I moved on to rep and then horn before leaving the band around say 1964/5 to concentrate on my advertising and marketing career. I still exchange Christmas cards with Derek (my musical hero) and other members of the band from that era. It was a great privilege to play with some of the finest exponents of brass instruments of the time, not forgetting of course Alex Mortimer.

Solo cornets; Derek Garside, Adrian Barratt, Lyn Williams & Tommy White
Repieno; Brian Taylor, Flugel Horn; Charlie Unsworth, 2nd. Cornet; Stan Wightman & Raymond Grand, 3rd. Cornet; Tommy Dowers.

Horns; Gordon Higginbottom, Haydn Harris & Cyril Poole (nephew of Joe).
Trombones; Bob Mc.Dowell, Harry Cook & Ron Ibbotson.

Baritones; Cyril Howarth & Bill Moresby,
Euphoniums; Syd Poole (no relation) & Colin Waggott.

Basses E flat; Harold Lang & Jack Phillips, B flat; Joe Poole & Joe Hughes.
Percussion; Jim Waggott (Colin's father).




A black & white photo taken in Swansea of The C.W.S. Manchester Band conducted by Alex Mortimer. Donated by Bob Mc.Dowell, this was taken in Swansea at a C.W.S. Family Fare exhibition. The band were booked for one or two weeks and performed twice daily, 3 - 5pm & 7 - 9pm. The personnel are similar to the above pics. But here's the list anyway;

Back row; Joe Poole, Joe Hughes, Jack Phillips, Harold Lang, Syd Poole, Colin Waggott, Cyril Howarth, Bill Morseby, Ron Ibbotson, Harry Cook and Bob Mc.Dowell.

Middle row; Cyril Poole, Gordon Higginbottom, Haydn Harris.

Front row; Alan ?, Tommy Dowers, Ray Grand, Stan Wightman, Charlie Unsworth,
Brian Taylor, Alex Mortimer, Tommy White, Lynn Williams, Adrian Barratt, Derek Garside, Dickie Davies & Jim Waggott (missing from picture).




Another of Bob Mc.Dowell's collection, this time with Alex Mortimer and three of the band's soloists; Derek Garside principal cornet,
Syd Poole solo euphonium & Bob Mc.Dowell solo trombone.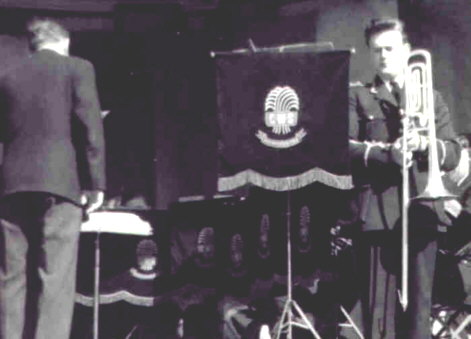 Here is the man himself, Bob Mc.Dowell playing a solo on the bandstand at St. Helens.
Bob states the band had three sets of uniforms, an indoor, outdoor & travelling set.





(Click here to go to page two, bands F - Z).

Back to the Gallery