The Euphonium Collective



Great British Low Brass

Sections of the Past

Page two, bands F - Z.




Here are a section of The Fairey Band conductor Ken Dennison. This is from a 1972 Decca recording, here are a few of the names,

2nd. euphonium (left) Barry Hinde, 1st. baritone (right) Cyril Howarth & solo euphonium Marcus Cutts.
Sitting behind Marcus is Philip Mc.Cann.

Marcus Cutts was a fine lyrical soloist and a long serving member of the band. I had the pleasure of sitting next to him when he joined C.W.S. Manchester for a short while.
I was with Sun Life and our bands were massed with Carlton Main Frickley Colliery in a concert in Sheffield Town Hall back in 1981.



Here are the combined bands of Faireys & Fodens as part of the Men O' Brass massed bands, conducted by Harry Mortimer. This is from an L.P. recorded on Columbia in 1964. Morris Motors Band were also on the recording but not the picture. The three trombones at the front of Faireys are; left to right, Kenneth Dennison, Frank Clayton & Arnold Hall.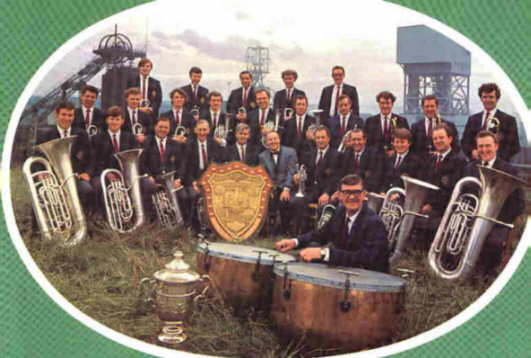 The 1969 British Open Champions Grimethorpe Colliery Band conductor George Thompson. This album celebrated the band's win on Gilbert Vinter's Spectrum and includes
David Moore on solo euphonium playing Springtime, Reginald Heath.

The players are; front row, left to right,
Derek Dawson & and Roy Batty (basses), Gerald Foster (euphonium),
Ron Smith (baritone), Brian Cooling (principal cornet),
George Thompson (conductor),
Fred Partlett (cornet), Tommy Dodd (baritone), David Moore (euphonium),
Ralph Lowery and Gordon Silver (basses).

Middle row, left to right are;
John Wright, Ian Hinckley and John Kendall (cornets),
Andrew Armstrong, Barry Thompson and Brian Smith (horns),
Malcolm Holmes (flugel),
Brian Hall (bass trombone), Terry Lambert & John Pollard (tenor trombones).

Back row, left to right are;
Ken Mac Donald (cornet), Peter Roberts (soprano),
Alec Garbett & Ken Hirst (cornets) and unknown.

Seated behind the timpani is Len Addy.




The 1964 National Champions G.U.S. Footwear Band
conductor Stanley Boddington.

Taken from the album cover Bandstand No.9, legendary Bert Sullivan sits on solo euphonium here with George Beardsley on 2nd
(later to move onto 1st. baritone when Trevor Groom arrived). Norman Ashton is on 1st. baritone and Norman Lewis on 2nd.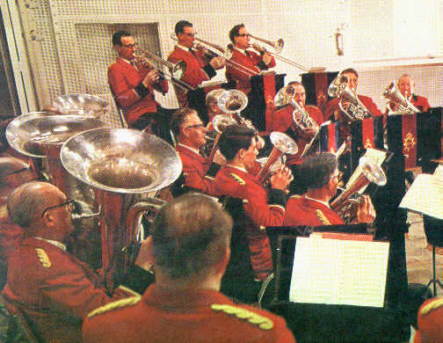 Midland Area Champions The G.U.S. Footwear Band
conductor Stanley Boddington.

Taken at a recording for Bandstand No.10 at Abbey Road Studios, London, this shows Trevor Groom next to Bert Sullivan and George Beardsley on 1st. baritone.
Recorded shortly after winning the Midland Area Championship on Gilbert Vinter's Symphony of Marches.
Note the really small bore instruments in use (particularly trombones) prior to the band re - equipping with the Besson New Standard range.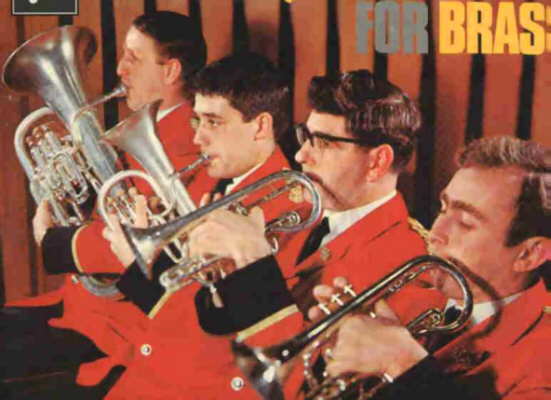 Triple Quartet Champions The G.U.S. Footwear Band Quartet conductors Gilbert Vinter & Stanley Boddington.

The G.U.S. Quartet of John Berryman and David Read (cornets), John Cobbley (tenor horn) and Trevor Groom (euphonium) won the British Open Quartet Championships in Oxford
in 1966 / 67 & 68. Each year a new work was written for them by Gilbert Vinter; Elegy & Rondo, Fancy's Knell & Alla Burlesca.




The 1971 National Champions The Wingates Temperance Band conductor Dennis Smith.
This was Wingates win on Le Roi D'ys which featured a moving solo from principal euphonium Len Withington.
Sadly, Len passed away in Australia in June, 2002. Dennis Smith himself was a marvellous player and one time principle euphonium of C.W.S. Manchester Band, Fodens Motor Works Band and Harry Mortimer's All Star Band, as well as some of the foremost Salvation Army Bands.
On this album, Len Withington plays The Wedding by J. Prieto.
On a previous album he recorded Rimmer's variations on Weber's Last Waltz.

Here, Len is seated next to Alan Marsh (2nd. euphonium),
Eric Doran (1st. baritone) & Arthur Waddington (2nd. baritone).




The 1965 Euphoniums of the President's Own U.S. Marine Band.
I am sure you would not mind an American picture here, particularly with players of this calibre shown, and that they are all holding
Boosey & Hawkes Imperials or Besson New Standard instruments!

Front row, left to right are; Arthur Lehman & Karl Humble.
Back row, left to right are; Jeffrey Price, John Zimmerman & John Burroughs.





DS Al Fine