The Euphonium Collective

The History of The Hanwell Band

1891 - 1983



First compiled November 2001

updated June 2023 by Charley Brighton.

Now online, all broadcasts on the BBC services by the band

Now online, all contests results listed for Hanwell Band

Now on youtube; 1966 Hanwell Band contest recording conducted by Geoffrey Brand

Back in 1983, I compiled and published a book on the history of the Hanwell Band. The copies sold well and soon sold out. For a number of years I have been asked for copies, so I decided to make it available to all on the web.

I have also added a lot more contest information that was not previously available, and I am extremely grateful to former bass player and publicity officer, Len Atter for providing a huge amount of information at no cost and to all the other ex members who have shared their past memories. I have most copies of recordings made by the Band and am happy to provide copies for those interested.

Please feel free to copy or download any information from these pages you need, though I would appreciate a return link or mention in any texts.

If you have any information that may assist these pages, I would be glad to hear from you.



The history is divided into 3 sections;



Section 1; 1891 - 1960
Section 2; 1960 - 1978
Section 3; 1978 - 1983


Letters Section

Charley,
I have been trying to put together recordings of The Hanwell Band in the '50's - '60 for my wife (and me!). Her maiden name is Butland, daughter of Laurie Butland (Tenor Horn) and has been trying to find a recording of "Bach - Suite No.3" that he was soloist on. Are you aware of a recording please?
Also, I have been trying to track down a couple of recordings - "Bold As Brass" - Keepoint MLPB which is shown on the website as "Recording Available". We would be very interested in this and would appreciate what we need to do to get/borrow it please. The other recording I cannot track down is "The National Brass Band Festival Recorded Live at the Royal Albert Hall" - Pye Records NPL18200. Any information on this one would be appreciated.
Your website has some nice photos. One that really struck us was Reading 1966 and Dad is clearly seen in the bottom left hand corner. A very big smile on his face, for obvious reasons! Neither of us recall seeing that before and it brought back lovely memories. If you can be of any help it would be very much appreciated.
PS Dad's awards are with her brother and we have asked if we could have a look at them again. Please let me know if they are of interest to you.
Very best regards,
Steve Ettridge (on behalf of Linda Ettridge),

Letters received from friends and relatives of past Hanwell members.
Former members of the band no longer with us; Soprano cornet player Fred Croft (67) joined Hanwell in the early 1970's from Carlton Main Frickley Colliery Band.
He also formed a popular ten piece group within the band using mostly his own arrangements and set up Pro-Brass in Kentish Town. A group from Hanwell lead by the then MD Bram Tovey, played at the wedding of Maggie and Fred.
Frank Bing joined Hanwell in the late 1940's under George Thompson. He was solo horn when the band were runners-up to Fodens at the 1950 National Finals. A long serving and much respected Chairman of the band he was still playing (timps) when the band were placed 7th. at the RAH under Barbara Stone in the late 1970's.

Best wishes, Charley Brighton

Mike Edwards has been in touch;
Have just been onto your recently updated website and came across Alan Fippard's recollections of Arthur Buckland. Buckie, as Alan has stated, was quite a character and it brought to my mind another instance of Arthur's antics. Members of the band were travelling by coach in either 1959, 1960 or 1961 to the prestigious Morris Motors Solo and Quartet Contest in Cowley, Oxford and I think Arthur had come along as a spectator (he was playing 2nd Baritone at that time).
The coach stopped at a hostelry on the A40 at Stokenchurch for liquid refreshment and after this we re-joined the coach and continued the journey to Cowley. The coach had gone a few yards when somebody realised that Buckie was not on board and the coach stopped two or three hundred yards down the road. We looked back and saw Buckie hobbling along the A40 frantically waving his arms. It turned out that he had been in the 'Gents' at our time of leaving!
I hope you will think this recollection worthy of inclusion on your excellent website, best wishes, Mike Edwards

Karen Weaver (Shackleton) writes;
Dear Charley, I've just been looking at your excellent Hanwell Band website again, prompted by the fact that last weekend I met someone who also played with Hanwell but at a different time to me. I played back row cornet with the band from 1982 - 1984 whilst working in London straight after uni, and I even did a stint as band secretary (I was Karen Shackleton back then).
Philip Sparke was conductor when I first joined and then Ian Johnson, and Linda Nicholson was principal cornet. Elaine and Marilyn Wolff were amongst the many other great musicians in the band at that time, quite inspiring for me at a time when women hadn't really got too far in northern bands (I'm from Rochdale). I remember you being on B flat bass at that time. I then moved to Nottingham for a few years where I played with Hathern Band before moving up to Harrogate in North Yorkshire for a new job, where I've been ever since. For various reasons I then stopped playing but 25 years later have just started again this year, joining a small village band in Nidderdale, the Summerbridge and Dacre Prize Silver Band. I got chatting to the 1st trombone player (Ian Craghill) and it turns out he also played in Hanwell, whilst he was at Kneller Hall. He says Eric Bravington was the MD when he was there.
I have very happy memories of my time at Hanwell and was always very grateful to Linda and also Mario who gave me lifts everywhere until I got my own car. Being a London based band meant playing at some great venues - various Royal Parks, Royal Festival Hall etc etc and also doing various BBC jobs including Friday Night is Music Night, Listen to the Band and That's Life (on the same episode as a young Boy George if I remember correctly). We recorded an LP whilst I was there which I've still got somewhere.
Probably the highlight was getting to the national finals and playing at the Royal Albert Hall, which was a fantastic experience. My last contest with the band was the Tetley's Leeds Town Hall contest which we won (I still have a great black and white photo of us celebrating). I was sorry to find that the band no longer exists so it is great that you've got a full history written up and with lots of people still adding to it with their memories and stories.
With best wishes, Karen Weaver

Alan Fippard has been in touch who has many happy tales of banding with Hanwell.
Hi Charley,
Thanks for repyling to my earlier note. I would like to give you some background info to give some point of reference.
I am 75 years old and currently a full time carer for my wife who has vascular dementia. I started to play the cornet at about 12 years old and had to give up playing (euph for Bisley Band) some 4 years ago due to suffering detached retinas in each eye (luckily Moorfields managed to save my sight). I came to play the euph via the trombone & baritone. I discovered brass bands when I joined Featherstone Road Secondary Modern School. I wanted to play an instrument and as it happened my father worked with a Scot named Sandy, who played 2nd. cornet for Hanwell Silver Band, who offered to teach me to play. When I had mastered the C scale I joined the school band (Kenneth Cook was our music teacher & conductor).
As I improved, Sandy took me along to band practice at Hanwell, and I was allowed to sit in at rehearsals. I was eventually accepted into the band playing at engagements & susequently contests.Whilst at school I became very friendly with Bert Osborn & Terry Dewhurst, the two principal cornets for the band, who I later introduced to Hanwell (Bert also became my Best Man when I married in 1958). That sort of leads into my life with Hanwell, however, at my age, looking back over his period, one finds that the chronology becomes a bit tricky! Whilst I can remember 100s of incidents, events, people, etc., on reading your transcribed history, I find that the unconscious sequence I held in my mind (probably wrongly) jars with the researched events you describe.
For instance,I always thought that my first contest was on December 5th. 1953 (my 15th birthday) at Bletchey. However I also remember playing Rhapsody in Brass at Brighton, winning for the third year running, and that was in the summer of 1953! Also I thought I left the band in the Spring/Summer of 1962 but I also remember recording that first LP record Hanwell made, which was late 1962, plus I remember playing Force of Destiny at a contest which was in 1963, so I probably left just after that. At this time Ted Walker (bass trombone) & I were good friends and we had both moved to live in Bracknell (in late1961) but found the travelling too expensive & time consuming so we left Hanwell & joined St. Sebastians in Wokingham.
I would be more than happy to relate more incidents/events of the extremely happy years I spent with Hanwell, but as I bored you long enough I will take my leave. I am sending by seperate email some updated titles for a couple of photos.
There are many players that passed through the band that I happily remember, not that I can remember all their names but included; Johnny Luckett, Ces Davis (Euphoniums) Frank Bing, Ray Norton, George Groom, Charlie Leatherby, Billy Keen, Laurie Butland, George Lee, Len Bryant, Len Atter, Tommy Collins, Mike Edwards, David Noad, Roy Beesley, Percy Pitkin, the girls Dot Kilvington & Barbara Stone, later came the Williams brothers (Terry on flugel & Brian trombone), Brian Burchall, Dave Allison & Ted Walker.
Best wishes, Alan Fippard

Dear Charley,
It's been a long time but I wonder if you remember my dad Roy Beesley. I thought perhaps you would like to know that my dad Roy passed away on Friday 18 May 2012 in The Northern General Hospital in Sheffield.
My dad had had a stroke before Christmas and unfortunately he was no longer able to live independently. We brought him to Sheffield to be closer myself and my sister Philippa (Edith our mum died in 2002).
My dad was still very much interested in the band and still listened to brass band music on the radio, tape cassettes and dvds. I even have the black vinyl copies of the few records that the band recorded and somewhere
a 45rpm of "You're a Lady". It was his life and as you know also a big part of ours, travelling around the London parks in the summer etc.
Could I ask that if you are in touch with any of the former members of the Hanwell Band that perhaps you would be kind enough to let them know about dad.
Kind regards, Lynn Ravenhill (nee Beesley)


After seeing "Brassed Off " on the television it rekindled my interest in brass band music. Surfing the internet I came across the Hanwell Band, which was my introduction to brass bands. I was the coach driver on the Switzerland tour.
I still remember the trip with fond memories. What a great bunch of people to be with. Bram Tovey was the conductor and as I recall Steve Riddler was the "class clown". I still have the autographed copy of the LP they gave to me.
I have now retired and moved to France and its nice to know that the band is still going from strength to strength.
Best wishes to all past and present members.
Peter Westbrook

We are sorry to hear of the passing of Brian Birchall. Brian played Flugel Horn, Tenor Horn & Baritone with the band through the 60's & 70's as well as being a fine Bandmaster.

Ray Norton (1924-2009) passed away in January 2009. He played trombone for Hanwell from around 1953-70 and still remained very much involved in the running of the band for many years afterwards. Son of Walter (who's father was Bandmaster at Bridgwater SA from 1920-55), the family moved to Lewisham in 1919. Ray later became a member of the Lewisham Concert Band prior to joining Hanwell.
He was also a member of the prize winning trombone quartet of George Groom, Tom Evans, Ray & Jack Hill.

Hi Charley,
I had the privilege of playing trombone with the Hanwell Band from 1972 to 1973. I decided to search the web today to see if the band is still going. I am saddened to hear of the passing of Ray (I used to sit next to him). In the picture under "Change of Conductor" – I am the trombone player listed as "unknown bass trombone". I am an Australian, and went to London to live for 3 years (1970 to 1973). I still have great memories of playing in the band, and consider it a great privilege to have sat amongst such great players. I am currently playing euphonium with the Waverley Bondi Beach Band, also known as Bondi Brass
Please keep me informed of any updates.
Kind regards, Peter Kelly


Dear Charley, My name is Robert Bravington. I am the distant Australian line from the Bravingtons involved in the Hanwell Band.
My dad Fred and I would like to find out more about the Hanwell Band and where we can find copies of their performances.
I read that you wrote a book on the history of the Hanwell Band and would love to know where we could get a copy.
Kind regards, Robert and Frederick Bravington.
Robert Bravington

Dear Charlie, last weekend I was at the Royal Northern Festival of Brass. I feel sure it would be of interest to old Hanwellians that Fodens Band directed by Bramwell Tovey concluded their programme by paying a tribute to Ray Norton by playing the hymn tune 'Abide With Me' .There was absolute silence at the end until finally Bram. left the stage.
Bramwell paid tribute to Ray by saying what a wonderful teaching experience it had been to work with Ray at Hanwell. Bram and I had quite a chat about old times together at Hanwell."
Grainger Rock

I came across your excellent website whilst surfing the net for some information on the late Eric Bravington. In my life of 70+ years, Eric was one of the finest persons I have met; he was not only a brilliant musician but a great human being. Fortunately, I met him several times in the late 60's & early 70,s, either at contests, or when I was able to attend rehearsals at the Red Lion whilst on business trips to London.
As mentioned on your website, he became Music Director in 1959. At that time, the band's contest performances were no more than average & as my old friend Len Atter has stated, the contest results for the next 3 years were brilliant. I like to think that one of the reasons for this was that the 'big end' personnel did not change during this time.
I joined Hanwell in early November 1954 upon completing my National Service In the Royal Marines Band Service. Initially I joined as a trombone player but, to say the least, there was a surfeit of trombonists in the band at that time & accordingly I switched to Bb Bass in early 1955. I stayed in this position until I left the area upon my marriage in late July 1962.
For the majority of my time, I was Assistant Secretary to Reg Bravington whom, as you are aware, was Mr Hanwell for 40+ years. To begin with, Len Bryant was the other Bb Bass player, but he switched to Eb Bass circa 1956/57 when Arthur Buckland found he could no longer attend regular rehearsals due to his ill health. My colleague for the rest of my time with the band was Len Atter with whom I keep in touch every Christmas.
The main purpose of this Email is to provide the site with further information on the band during my 8 happy years with them & to correct some items which I think are questionable or inaccurate. I hope that you will accept these comments in the spirit in which they are made, as I fully appreciate the mammoth task you must have had in collating all this data for placing on the website.
Wherever possible, I have given reasons to support my comments. Fortunately, I still have a pretty good memory & am a lively septuagenarian!!
Well Charley, I think that is all I can contribute on the marvellous Hanwell Band's history. Please feel free to use whatever parts of this diatribe you feel could be of use to your brilliant website. I apologise for the length of this Email, but I had a lot of happy memories to recall & preparing it has kept me out of mischief for a few hours!"
Best Wishes, Mike Edwards


The Hanwell/Keepoint records connection.
"I'm fairly sure I was personally responsible for John Keel's foray into the commercial field. I think I approached him as band publicity officer, but it could have been vice versa.
Hanwell was enjoying quite a purple patch. From my first contest (RAH 1957) to June 1961 (after which we got a string of seconds) in 27 outings we had 14 firsts, 5 seconds, 2 thirds, and 2 fourths - the other 4 results show there must have been adjudicating aberrations even back then!
At contests in the South of England John Keel was normally to be seen just in front of the stage with his single microphone machine, recording every performance for sale to the respective bands. Although accepted as being fully blind he must have had some level of vision as he frequently peered at his equipment literally from two inches away. The recently-surfaced Reading records must surely have been of that type, as we were certainly not aware of them being offered commercially.
John Keel was a big, dare I say shabby, man with an unkept beard. I have two humorous recollections of him. When we decided to talk about a studio recording, he invited Mary and me to his South London home to do so over an evening dinner. We were starving by about 11 pm when the meal finally materialised - the most fantastic cheese souffle, and you know how I am with cheese! Boy, I was hungry when I got home in the early hours, but at least Mrs Keel had driven us there in their recording van.
The other memory is of how he rang me at work between producing the 'Here's Hanwell' and 'Bold as Brass' records, when he was working on a disc by East Ham Borough (ancestor of Aveley & Newham, and the only London band to come near us at that pre-Hendon time). It was to be of solely Eric Ball compositions, and John wondered if I could think of a suitable title. My off-the-cuff suggestion, since they were our rivals, that it should be called "It's All Ball's" obviously didn't find favour, as it appeared as "East Ham Plays Ball".
Probably just as well!
Obviously through John's connections, our two studio recordings were each made in one-Sunday sessions at the RNIB hall in Great Portland Street. I think there were only two minor splicings, otherwise we played the dots from top to bottom a couple of times and John and Eric Bravington between them chose their preference. On the earlier one we included Quo Vadis (Drake Rimmer), probably still in our minds after beating Cory into second place on it at Gloucester. It's the one Mary claims to have "played" on, having been drummer's mate (passing sticks and so on) - in those days the idea of six percussionists drowning the brass would have had us rolling on the floor, and we only used a kit-drummer.
The second one is named after the band's signature march, Bold as Brass. Although I can't vouch for it, the story is that this march was offered to us by fellow West Londoner Thomas Chappell as The Hanwellian, just before my time, but the band said "Thanks, but no thanks" until later we decided we'd like it after all, only to find that by then it had been published under its revised name. John's recording, considering his personal disability and the primitive equipment available, is pretty good, but rather harsh and I'd advise any listener to modify the treble sound.
The picture of the band on both covers was taken after a Sunday afternoon job in Bishop's Park, Fulham, by the Thames; if you wonder what we were playing at the time, I'm afraid it was only a sustained chord in an empty enclosure.
Any developments on this saga will be read with interest."
Regards, Len Atter.

"Thanks to a kind friend, I now have mp3 files of two of Hanwell's winning performances, recorded live at the Reading Contest, held in the old Town Hall. They are the 1964 performance of 'Themes from the New World' conducted by Eric Bravington and the 1966 recording of Symphony of Marches conducted by Geoffrey Brand. Email me if you would like copies of these."
Charley Brighton

"I do enjoy keeping up with the Hanwell history. Although I can be called ancient (79) I still am engaged playing in the Salvation Army with The Central North Divisional Band and am secretary and Flugel with Central North Fellowship Band.
Since being in the North I have played for Warburtons Bakery, a Championship band in Preston, Blackburn and Darwen for three contests and finally with Wingates as Librarian/Secretary only to be taken ill rather quickly and leaving after a short time.
Occasionally I meet ex Hanwell stars, Bramwell Tovey on several occasions and Cec Davies, Steve Riddler, until he left for warmer climates. Good to see you are staying in the news, hope Sue is well. Pleased to say Marion is."
Grainger Rock

"The Mr Williams referred to in the early years was my great grandfather, Alfred Augustus Williams. He lived in Green Lane and then Westminster Road. He worked at Hanwell Asylum for 46 years where he started the Asylum Band. He also had a dance band that played at "The Feathers" in Ealing Broadway around 1900.
I understand that he was a versatile musician, playing cornet, fiddle, double-bass and piano. He died around 1934. My knowledge comes from my father and his aunts, my great aunts – Miss Williams (known as Daisy) who was a school teacher in Hanwell until her retirement in 1948 and the widowed Mrs Hazell (known as Bessie) who was a respected dressmaker. Both remained in the house in Westminster Road after their parents had died.
I have a few biographical details of Alfred. His father served in the Army, a Lancashire regiment and Alfred was born in Australia around 1857. His parents had both died by the time he was 12 and he and his sister were shipped back to England to live with relatives in Hampstead.
Alfred joined the Army at the age of 14 and served as a Bandsman for 5 years. At the age of 19 or 20 he married, left the Army and moved to Hanwell.
I have cuttings from the Middlesex County Times and West London Gazette concerning his retirement and funeral but on neither does the date appear and the dates mentioned don't necessarily tally. The fact that he was born in Australia and with no knowledge of his father's name or rank, it is difficult to confirm his date of birth.
I appreciate that this is sketchy but hope it helps put a bit of flesh on the bare fact of his name."
Sue Maiden (nee Crowson)

"Whilst doing some surfing research on my family history, I came across the web site of the Hanwell Silver Band. My father, John Herbert Kitchin, was a member playing the Eb bass between 1930 and about 1954.
His brother Leslie (drummer) and father John Herbert or Herbert John (cornet?) were also associated with the band, and at one time I believe my grandfather was the librarian for the band. If you have any information, records, recordings of this period, photos etc. I would be absolutely delighted to hear from you. I was really pleased to see a photograph on your website which featured my father and which I did not know existed.
I have several photos including one of a recording session at the BBC and a 78 rpm recording of the 1951 Championship.
As a piece of additional information, I know that in the 1943 film "Major Barbara" my father and some other bandsmen (Hanwell Silver?) were featured in the climax of the Royal Albert Hall Scene".
John Kitchen

"I have always understood that my grandfather played in the Hanwell Silver Band. I also believe he is in the photo for 1921, where he appears to be in the back row in the 5th or middle position. He was born in 1875 so would be 46 at the time.
He served in France during the 1st. W.W. and his name was Henry Gunn (Harry). He lived in Glenfield road, just off Northfields Avenue and would regularly drink in the Foresters, his local.
I have a portrait photo with him wearing a moustache and looking very much like the bandsman in your booklet "The Hanwell band".
He seems to have travelled around the south coast playing and on his return would bring back miniature pots of the Goss type with the town coat of arms. There is one of the British Empire exhibition at Wembley in 1921".
Norman Wearing

"My father, Tom Elsdon, played cornet and was Bandmaster with the band for a number of years in the late forties and early fifties. I have the photograph of him standing beside Eric Bravington that you show on your site. I have many memories of accompanying my father to concerts in parks and halls.
I also remember attending the Royal Albert Hall and Belle View with Dad in the days of the Daily Herald contests. I have a number of concert programmes from that time which might be of interest to you. Dad found the journey from Grove Park, South East London to Hanwell (Boston Manor) for practice too far to travel,
and became conductor and bandmaster of the Bromley (Kent) Home Guard Association Silver Band, which was an easier journey. Again I followed him, by now playing cornet myself, onto bandstands in south east London and Kent.
Tom died, still with Bromley, after a short illness in 1965. He was also teaching brass instruments in a local LCC evening institute. I can tell you that he always remained very proud of his association with the Hanwell Band and followed their fortunes as well as it was possible in those days. I believe he wrote a march called 'Boston Manor" for Hanwell.
I also remember him arranging orchestral scores and laboriously scribbling band parts by hand on to reams of manuscript.
Two names stick in my mind from the photo. George (or Alf ?) Garlick, cornet, and the bearded baritone player whose surname I am sure was Rutter".
David Elsdon

"I am still (at nearly 77) helping the Young Peoples Band at High Wycombe Savation Army. The Hanwell Band came to High Wycombe I note from your book, on June 19th 1982. We were raising money to take our band on a trip to the Ruhr Valley in Germany. After a superb concert the band announced that all expenses would be waived.
The folk will never know what this meant to us and on the kids behalf I shall be forever most grateful. Some of the boys and girls had a lot of difficulty raising their own expenses as of course the trip could not be financed with Army funds. I Hope this is of some interest and thanks for the interesting reading".
Trevor Steventon

Musician Dave Woods writes that his grandfather was a founder member of the band.



On a certain evening in the Autumn of 1891, a few kindred spirits met at Hanwell to consider the question of starting a public band for the district. After some discussion, it was decided to form a band, to be known as The Hanwell Town Band, providing the necessary funds to purchase instruments etc., could be raised. After deciding to appeal to the public for subscriptions for this purpose, the next important matter was the question of a practice room.

From THE MIDDLESEX COUNTY TIMES, Saturday, 7th May, 1892.

"Formation of a Band - A movement has been set on foot to form a brass or brass and reed band in Hanwell. Two Meetings have been held and a good committee has been elected, comprising amongst others, Mr. Williams (bandmaster of the Asylum band), Messrs. Record, Marks, Benn, Cooper, and W. Woods (Hon. Sec. and Treasurer).
The senior band (mainly professional) will be out in the course of a week or two. There is also a reserve band of about sixteen members. An appeal is being sent out to the gentry and traders for help to buy the instruments."

First Conductor, Alfred Augustus Williams.
His father served in the Army, a Lancashire regiment and Alfred was born in Australia around 1857. His parents had both died by the time he was 12 and he and his sister were shipped back to England to live with relatives in Hampstead.
Alfred joined the Army at the age of 14 and served as a Bandsman for 5 years. At the age of 19 or 20 he married, left the Army and moved to Hanwell.
He lived in Green Lane and then Westminster Road. He worked at Hanwell Asylum for 46 years where he started the Asylum Band. He also had a dance band that played at "The Feathers" in Ealing Broadway around 1900.
He was a versatile musician, playing cornet, fiddle, double-bass and piano. He died around 1934.

First Bandroom.
The landlord of The Viaduct Inn was at that time Mr. Wallis, and he very kindly placed a room at the disposal of the Band in which to meet for weekly practices. So cordial were relations with the Band that the headquarters of the Band remained there for many years, the Band being popular with numerous succeeding proprietors of The Viaduct Inn.

First Appearance.
After a lot of hard work on the part of the promoters, and owing to a liberal response to the appeal for funds, a number of instruments were purchased and a start was made, under the conductorship of Mr. Williams. Early in 1892 the Band made its first public appearance in Hanwell Broadway.

Towards the end of 1892 the Band secured the services of Mr. W. Woods, a gentleman who possessed knowledge of the method of contesting Bands in the North of England. The members of the Band grew more ambitious with a view to competing for prizes against other Bands. Mr. Woods went on to conduct the Band until his death in 1904.

From THE MIDDLESEX COUNTY TIMES, Saturday, 4th March, 1893.
"The Town Band under the conductorship of Mr. W. Woods attended the evening service at the Union Church on Sunday and played at intervals during the service the following selections:


"O look for Comfort",
"Gloria" from Mozart's No.2 Mass
"Hallelujah Chorus " from Handel's "Messiah".



Annual Report 1897 Receipts: Total £33 12s ld.



Expenditure:
Instruments £6.18s. 0d
Repairs £2. 3s. 6d
Room Hire £2. 0s. 0d
Uniforms £4. l0s. 6d
Music £4. 12s. 3d
Postage, Printing, £2. 14s. 9d
Collector £1.l0s.0d
Paid to members £8.19s.6d

Totals £33.8s.6d
Cash in Hand 4s.5d
Total £33.12s.1d


Ladies and Gentlemen, the members of the Hanwell Town Band beg to return their sincere thanks for the residents of Hanwell for their patronage and support so kindly granted to them and, in accordance with their annual customs, very respectfully solicit the favour of their subscriptions for the year 1898.
Assuring them of their best endeavours in the future as in the past,
I beg to remain, yours respectfully,
J. W. Clamp, Hon. Sec. 28 Rosebank Road, Hanwell.
N.B Subscriptions will be thankfully received and acknowledged by the Secretary.

The 1900s.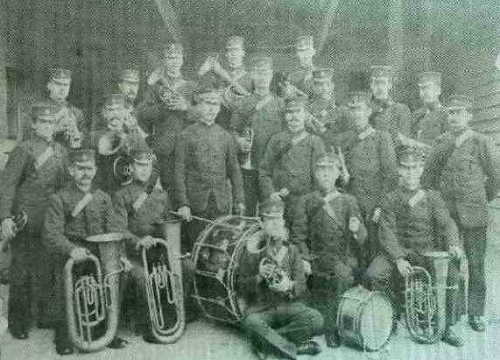 The Hanwell Band outside the Viaduct Inn, Hanwell, 1903.


The above picture (although not very clear) prompted a response from Michael Redstone who's grandfather Frederick Percy Gladman played in Hanwell from 1900 to 1910 (aged 14 to 24).

He lived at 28 St. Andrews Road before moving to Teddington. At the start of the 1914/18 War he would stand on street corners with his cornet and summon up men to come and fight for King & Country. He later became a Regimental Sargeant Major.

Frederick can be seen in the picture behind the conductor, holding a tenor horn, and would have been 17 years old.
He gave his first public performance aged 6 when he played to the Women's Institute in 1892, the very year Hanwell came into being. Frederick's father, Frederick James Gladman, worked at Hanwell Asylum and this may well suggest a link to Mr. Williams, the original bandmaster.

The banding tradition continues in Michael's family, his son-in-law Stephen Popham is the Assistant Bandsmaster of the Swinton Band in North Yorkshire. His daughter Tracey was the Principal Cornet for many years and his son Andrew has joined the Hitchin Band. Lastly, his granddaughter Alice Tasane (aged 11) plays the cornet for Thirsk Royal British Legion Band.

Existing Uniforms; Black, Black and Gold Braid, White Cross Belts. Total Cost: £21 18s 7d.

Balance Sheet, 1902.
The sum of 5s. has kindly been presented to the Band by A. S. Sharp, Esq. to cover the deficit of 4s.1d. leaving a balance of 1d.

Name Change.
At some time in 1903, the Band were successful in winning a competition and the name was changed to The Hanwell Prize Band.

Grand Concert.

Wednesday, 5th July, 1905.
At the London United Electric Tramways Club & Institute,
Park Hall, Hanwell, 7.3Opm.
Tickets 2/-, 1/- and 6d.
Two minutes walk from regular Electric Car services.


Solo & Quartet Contest.
From THE MIDDLESEX COUNTY TIMES, Saturday, 3rd December, 1910.
"The quartet party from the Hanwell Town Prize Band has worthily upheld the reputation recently gained at Yiewsley where it was awarded first prize and three medals for soloists. Under the able guidance of its esteemed conductor Mr. E. Brophy it succeeded in gaining second prize at the Enfield Quartet Contest."



Silver Prize Win.
Tottenham Contest, 1913, First Prize. Name changed to Hanwell Silver Prize Band.

The War Years.
During the War, most of the bandsmen joined the forces and two members, Mr. Maurice Parkin and Mr. Cyril Butler, never returned.

The Re-start.
At the end of 1918 steps were taken to re-start the Band. It was not an easy job, for instruments had become scattered and uniforms decayed, and there seemed little prospect of obtaining new ones.

Reg Bravington.
It was the following year that Reg Bravington took charge of the Band. There was an enthusiastic body of members. For uniforms they bought the remains of those worn by the Ealing Volunteers and had them dyed. The lot cost £5.

Elthorne Band Contest.
The first decisive step which brought the band back into the public eye was taken in 1919 when a band festival was held in order to raise funds for a new set of instruments. The Hanwell Urban Council granted the use of Elthorne Park, and the festival was a great financial and musical success. Sufficient profit was made to pay the first instalment on a new set of silverplated instruments.
The festival ran for many years and attracted bands like Luton Red Cross, Callender's Cables and consisted of four sections with a massed bands concert. Sometimes the event was finished by candlelight due to huge entries in every section.
The organisation of the annual festival, the winter bazaars, dances, whist drives and the formation of the Band Patrons Guild made the band one of the most envied combinations in the South of England.

Conductors.
Sufficient funds were raised to pay the conductor, Mr. Willesden and under his conductorship the band entered nine contests in 1922. In the following year Mr. Willie Greenwood was appointed conductor and in 1924 two prizes were secured at Uxbridge and Reigate contests.
It was under Mr. Greenwood's baton that the band secured the first of its countless London & Home Counties Championships.



Promotion.
In 1927 the band were recognised as Championship Section by all contesting councils.

J.C. Dyson.
A further change of conductor was made in 1929. It was felt that a regular conductor should be engaged instead of the occasional visits by Mr. Greenwood. Sixty men from all over the country applied for the position. Mr. J. C. Dyson was chosen.
Mr. Dyson, who came from Clackheaton, was well known as a teacher to 14 north country bands, including Black Dyke Mills and Wingates Temperance. In addition he was cornet soloist with these and a trumpeter with the Huddersfield Choral Society, Leeds Symphony Orchestra and The Halle Orchestra.
A cartoon in the local press commented on his being left handed, saying the right would be too busy collecting awards. When he arrived at Hanwell the committee gave him a free hand in the musical running of the band and it quickly became one of the foremost Bands in the country.

1930.
From THE MIDDLESEX COUNTY TIMES, 1930.
"Hanwell Band Heard Abroad"
"An interesting letter has reached the Hanwell Prize Band from Adjutant F. H. Francis, superintendent of the Salvation Army's Leper Hospital in Cochin State, South India. Adjutant Francis writes to say that he picked up the Band's broadcast on 19th May and how it 'cheered up an isolated band enthusiast.'
Commenting on the broadcast he says: 'A feature was the tone of the band and it is a job to say which section was best, though the Trombone's colour, tone and precision were great."'

From the MUSICAL PROGRESS.
"Hanwell's Trip to Whitstable"
"We have just received an illustrated booklet from Whitstable containing a programme of music recently rendered by the Hanwell Silver Band under the direction of Mr. J. C. Dyson. Our local correspondent goes on to say, 'Among the many fine items given by the Band and the various soloists, the Bombardon Solo 'Cyclops' played by Mr. Jack Wilkinson, will long be remembered as a masterly performance
We were also pleased to hear of Hanwell's success at Headington Contest where they beat the renowned Luton Red Cross Band. This is a distinct feather in their cap and should prove a big stimulant for the Crystal Palace Contest."

Elthorne Contest.
From THE MIDDLESEX COUNTY TIMES, Saturday, 7th June, 1930.
"In announcing the result of the adjudication of the first division, Mr. Denis Wright said that he had a feeling that the conductors of some of the competing bands had been studying the gramophone record of Cyril Jenkin's Victory.
In that case they were liable to fall into great error in regard to speed, because when a work was played for the gramophone it had often to be mutilated in order to get it on the record. Callenders Cable Works Band were victors on that occasion.



1931
The first Annual Band Dinner was held on 12th April, 1931 at the Red Lion Hotel, Hanwell.

Contests.
8 First Prizes, 6 Second Prizes, 4 Third Prizes, 19 contests entered.

1932.
5 First prizes, 2 Second Prizes, 2 Third Prizes, 6 special awards, 2 medals for soloists, 10 contests entered.

1933.
The Hanwell Band made its first appearance at Belle Vue Contest in Manchester, leaving by train from Euston Station at 8.30am and connecting with a bus to the Kings Hall. The party from Hanwell was 60 strong and arrived back at 5a.m. on the following morning.

Concert.
From THE BRITISH BANDSMAN, 2nd September, 1933.
"The Hanwell Band were in excellent form last Sunday in the Victoria Embankment Gardens. During the Berlioz Selection, the bandstand lights went out, but the band continued to play notwithstanding. The lights were ultimately rectified."

B.B.C.
From THE BRITISH BANDSMAN, 6th May, 1933.
"Hanwell Band attended at Broadcasting House on 23rd April for the audition arranged through the association for the first prize winners at Walthamstow contest.
The items selected were "Egmont" and "Coriolanus", and the band were highly complimented by the official in charge, and it is hoped that we may hear the band 'over the air' once more.
Surely no reasonable excuse can be found for continuing the 'no change' policy of the BBC regarding brass bands from the London Station.

1934. Crystal Palace Contest
The Band draw No.1 and are on stage waiting to start as two players arrive by taxi. The Band went on to achieve 8th placing.

Elthorne Contest.
Bands included Callender's Cable Works, Luton Red Cross and Munn and Feltons, conducted by Harry Mortimer.

1935. Contests.
Hanwell Band win the London & Home Counties Championship for the 9th time in succession

Concerts.
Hanwell are the first band to appear on the West End stage with two concerts at the Prince of Wales Theatre, 29th December, 1935.
Soloists included Eric Bravington "Boy Wonder" on the Post Horn with 8 Championships to his credit. Arthur East, Principal Cornet, with over 50 Championship wins and A. W. Morby, Euphonium Champion.




The Hanwell Band, conductor J.C. Dyson on stage as the first brass band to play in a West End Theatre, the Prince of Wales.
They gave two performances on December 29th. 1935.

Programme;
March, The Contemptibles
Overture, Lustpiel
Cornet Duet, Ida & Dot
soloists Dennis Moran & Eric Bravington
Selection, Bizet
Novelty, The Elephant's Parade
Selection, Sweethearts of Yesterday.

Interval

March, Ballerina
Euphonium solo, My Hearts Delight
(encore, Song of Songs)
Fantasia, A Hunting Scene
Novelty, The Killies Courtship
Selection, Gracie Fields Songs.

Elthorne Contest.
John Henry Iles is engaged to conduct the massed bands following the contest in Elthorne Park.

Film.
The Band are engaged in the production of "Look Up and Laugh" with Gracie Fields conducting the Band. Made at Ealing Studios, 19th August, 1935.

Largest Audience.
The Hanwell Band play before an audience of 40,000 for two and a half hours prior to the football match between Brentford and Arsenal at Griffin Park.


N.B. This was a local newspaper report, the record attendance at Griffin Park is said to have been 38,678 in a match versus Leicester City, later in 1949.



1936. Solo & Quartet Contest.
St. Anne's Hall, Hanwell. 105 soloists, 15 quartets.

1st. Hanwell 'A' (Beethoven)
2nd. Spring Gardens Reading (Poliuto)
3rd. Hanwell 'B' (Poliuto)

Championship Air Varie.
1st. Arthur East, Cornet Hanwell
2nd. A. W. Morby, Euphonium Hanwell
3rd. Ed. Loton, Euphonium Enfield
4th. Eric Bravington, Cornet Hanwell




Solo & Quartet Champions; left to right;
W. Southwood, C. Hammond, W. Morby, D. Moran & A. East.



Band Contests.


Leicester 3rd. £4
Paddington 2nd. £15
Romford 4th. £5
Fairford 3rd. £10
Bugle 3rd. £14
Orpington 3rd. £3



1937.


Leicester 1st. £20
Paddington 3rd. £3
Fairford 1st. £25



1938.


Leicester 3rd. £10
Paddington 1st. £7
Hayes 1st. £12
Romford 2nd. £12
Fairford 1st. £25
Bugle 4th. £8
Yiewsley 1st. £12
Walthamstow 1st. £15
East Ham 1st. £7



1939.


Leicester 2nd. £15
Paddington 3rd, £1.10.0d
Hayes 3rd. £5
Romford 1st. £15
Fairford 2nd. £15
Walthamstow 1st. £15
Barking 1st. £8



Contests.
From THE DAILY HERALD, Thursday, 2nd September, 1937;
"Hanwell's performance at Bounds Green in winning six of the seven Championship trophies is an outstanding achievement. Winners of the Air Varie, Eric Bravington, and the Junior and Senior Slow Melody, Fred Lack are both products of Hanwell's Junior Band.
Gilbert Hall, Hanwell's Solo Horn, had an enjoyable day. He and his three -boys competed, Gilbert being 4th in the Air Varie and playing in the winning quartet, whilst Albert Hall was second in the under 18 and under 14 years sections.
George Turner and Eric Bravington worked hard in coaching the contestants."

Gilbert Hall went on to play Solo Horn with the quartet in the Championships of Great Britain and his son Albert became one of the leading session trumpet players.

1940's.
Gradually as a result of the war, many band contests ceased, many never restarted. With the movement of service men all over the country, Hanwell was successful in obtaining over 20 musicians whilst many of its own were posted elsewhere. Said Reg Bravington at the time: "It may be that when the war is over we will have two Hanwell Bands!"

Film.
Hanwell appear in the 1941 film 'Major Barbara'. A British film starring Wendy Hiller and Rex Harrison.
The film was produced and directed by Gabriel Pascal and edited by David Lean. It was based on the 1905 stage play by George Bernard Shaw.
At around 1hr. 15 minutes into the film, the band can be seen on stage at the Royal Albert Hall, with Eric Bravington on principal cornet and father Reg. on 2nd. Euphonium.




Contests.
The 1940's saw the Band achieve great honours in National contesting on a scale that was remarkable for a subscription band.



October 19th. 1946, National Finals; 4th.
playing Oliver Cromwell, Gheel.

1947;
April 5th. Hammersmith, 1st. playing Excerpts from Tchaikovsky

April 26th. Area Contest, 4th. playing Akhnanton, Ball

June 14th. Hinckley, unplaced, playing Liszt's Works.

July 12th. Brighton, 4th. playing A Downland Suite, Ireland

December 6th. Bletchley, 1st. playing Coriolanus, Jenkins



Quartet Champions 1945-46.
At the first Solo & Quartet Championships of Great Britain in Cowley, Oxford, the A quartet won first prize, repeating the success in the following year.

Area Contests.
With the formation of the National Brass Band Championships and its Area Qualifying Rounds, the Hanwell Band were quick to make their mark as finalists.
In 1945 they were second only to the famous Luton Band with Fred Mortimer, and the following year they were first, with Luton having to be content with 4th placing. Hanwell were conducted on both these occasions by George Turner.




BY ROYAL COMMAND.

HER MAJESTY QUEEN MARY formally opens the gates of the Garden of Remembrance at St. James's Church, Piccadilly, 2.45 pm, 12th May, 1946 following the dedication by the Rt. Rev. The Lord Bishop of London.


Fanfare by the Trumpeters of His Majesty's Lifeguards.

Programme of music by the Hanwell Silver Band,
guest conductor: Frank Wright.

Overture from "The Messiah" Handel
Solemn Melody, Walford Davies
Lift up your Heads (Messiah) Handel.




Contests, 1948.


February 7th. Area Contest, unplaced, playing Fantasia in F

March 13th. Hammersmith, unplaced, playing Beethoven's Works

June 12th. Gravesend, 1st. playing Carmen

July 10th. Brighton, unplaced, playing Carmen

August 21st. Walthamstow, 1st. playing Carmen



Contests; 1949.

March 19th. Hammersmith, 3rd. playing Egmont, Beethoven

April 9th. Area Contest, 4th. playing Morning Rhapsody, Ball

May 7th. Clacton, 1st. playing Symphony in C, Schubert

June 11th. Gravesend, 1st. playing Symphony in C, Schubert

June 25th. Romford, 1st. playing Symphony in C, Schubert

August 6th. Southsea, 2nd. playing Symphony in C, Schubert

September 17th. Walthamstow, 1st. playing Les Preludes, Liszt

December 3rd. Bletchley, 1st. playing Egmont, Beethoven



The 1950's.
The appointment of George Thompson as Musical Director was to bring the Band its greatest success to this date, that of runners-up in the Daily Herald Brass Band Championships at the Royal Albert Hall, one point behind the mighty Fodens Motor Works Band.

Festival Concert.
As Area Champions they also joined 8 other bands in the massed bands festival concert conducted by Sir Malcolm Sargeant and Harry Mortimer.

Music.
For the qualifying rounds the test piece was Henry Geehl's Festival Overture and Herbert Howell's Pageantry was chosen as a suitable test for the finals.

Contests.


February 25th. Area Contest, 1st. playing Festival Overture, Gheel

April 4th. Leicester, 3rd. playing Eugene Onegin, Tchaikovsky

June 3rd. Hayes, 1st playing Moorside Suite, Holst

June 24th. Romford 1st. playing Academic Festival Overture, Brahms

July 15th. Brighton, 2nd. playing Labour & Love, Fletcher

August 26th. Walthamstow, 1st. playing Morning Rhapsody, Ball

October 28th. National Finals, 2nd. playing Pageantry, Howells

December 2nd. Bletchley, 1st. playing Eugene Onegin, Tchaikovsky




1951, Contests.


March 17th. Hammersmith, 1st. playing Comedy Overture, Ireland

March 26th. Leicester, 4th. playing Othello, Rimmer

April 21st. Area Contest, 2nd. playing Atlantic, Wright

June 16th. Bournemouth, unplaced, playing Severn Suite, Elgar

July 14th. Brighton, 1st. playing Festival Overture, Gheel

October 27th. National Finals, unplaced, playing Epic Symphony, Fletcher




Annual Dinner.
The Cuckoo Rooms, Park Hotel, Hanwell. Tuesday, 3rd April, 1951.


MENU
Tomato Soup
Fillets of Plaice
Roast Turkey & Seasoning
Roast & Cream Potatoes
Vegetables
Ice Cream Gateau Biscuits & Coffee

Entertainment: Syd Sadler's Dance Band, Joyce Hewitt and Gordon Parr, Will Tedder



Celebrating Principal Honours.



17 times Champions London & Home Counties Band Association.
National Finals 1946 4th
National Finals 1950 2nd
Southern Area Champions 1946, 1950
Winners;
Fairford 6 times,
Romford 6 times,
East Ham 6 times,
Walthamstow 11 times,
Erith 3 times,
Bletchley 3 times
Oxford 3 times,
Egham 3 times,
High Wycombe 3 times.
Quartet Championships of Great Britain
Cornet Championships, Southern Area, Eric Bravington, twice.
L& H.C. Solo Champions:
A.East
A.Morby
E.Bravington
V. Saywell
S. Willis
T. Collins
F.Lack
G. Slatter
A. Wilkinson.

Total Prizes since 1920:
218 Prizes
138 First Prize Awards
146 Trophies
Cash = £2169

Toasts: THE BAND, THE LADIES, THE SUPPORTERS




Cornet player Alan Fippard remembers;
"When George Thompson left, Alf Jarvis took over the conducting.This worked well for a while but I think that the band being used to the "bullying" of George didn't attain the same sparkle under the gentlemanly manner of Alf. When Alf left to conduct Croydon, I think Tommy Evans, as bandmaster, acted as temporary conductor for run of the mill engagements with Eric Bravington covering contests.
During this period we were also desperate for cornet players and I remember finding myself playing in different positions each job, even ending up on one job playing 3rd man in "Three Jolly Sailormen"! Eventually the band settled when Eric Bravington took over as Musical Director. There many other players that passed through the band that I happily remember, not that I can remember all their names but included;
Johnny Luckett, Ces Davis (Euphoniums) Frank Bing, Ray Norton, George Groom, Charlie Leatherby, Billy Keen, Laurie Butland, George Lee, Len Bryant, Len Atter, Tommy Collins, Mike Edwards, David Noad, Roy Beesley, Percy Pitkin, the girls Dot Kilvington & Barbara Stone, later came the Williams brothers (Terry on flugel & Brian on trombone), Brian Burchall, Dave Allison and Ted Walker."

1952, Contests.


April 5th. Area Contest, 3rd. playing Resurgam, Ball

July 7th. Brighton, 1st. playing Eine Kleine Nachtmusik

October 4th. Oxford, 1st. playing Coriolanus, Jenkins

October 11th. Croydon, 1st. playing Festival Overture, Gheel




1953, Contests.


March 7th. Hammersmith, 2nd. playing Rhapsody In Brass, Goffin

March 28th. Area Contest, 1st. playing Rhapsody In Brass, Goffin

June 13th. Brighton, 1st. playing Rhapsody In Brass, Goffin

June 27th. Romford, 1st. playing Eugene Onegin, Tchaikovsky

August 11th. Fairford, 1st. playing Coriolanus, Jenkins

September 5th. Belle Vue, unplaced, playing the Three Musketeers, Hespe




Change of Conductor.
From THE MIDDLESEX COUNTY TIMES, 5th October, 1953.
"With only a few weeks to go before Hanwell Silver bandsmen contest the biggest brass band championship of the year, their regular conductor has had to resign. Into the breach to take the rehearsals and conduct the title performance of Diadem of Gold at the Empress Hall, Earl's Court, has stepped Honorary Conductor Eric A. Bravington.
Eric began his career as a cornet player with Hanwell when he was only 8, he is now Principal Trumpet with the London Philharmonic Orchestra. The Band will be televised for the first time on Saturday, 17th October with two half hour sessions being screened direct from the Festival. This is the fifth time since the war that Hanwell have qualified for the National Finals."

Contests.


October 17th. National Finals, unplaced, playing Diadem of Gold, Bailey

December 5th. Bletchley, 1st. playing Acdemic Festival Overture, Brahms






1954, Contests.


March 6th. Hammersmith, 2nd. playing Clive of India, Holbrook

April 3rd. Area Contest, 4th. playing Clive of India, Holbrook

June 12th. Brighton, 5th. playing Clive of India, Holbrook

August 10th. Fairford, 1st. playing Labour & Love, Fletcher

September 18th. Bletchley, 4th. playing Oberon, Weber

November 20th. Reading, unplaced, playing The Three Musketers, Hespe




Fame & Glory.
Many of the Hanwell bandsmen became famous in the musical world outside brass bands, including Arthur Wilkinson, one of the foremost arrangers of radio and television, Stanley Brown, Trombone of the Canadian Air Force Band and ex Philharmonia Orchestra, Roland Dyson and Norman Burgess (who's father played in Hanwell), Sadlers Wells Orchestra, Arthur Tilley, RAF Central Band, and Victor Saywell, soloist with H.M. Scots Guards Band.
During the years 1954 - 1957, Denzil Stephens plays with Hanwell on euphonium whilst based at R.A.F. Uxbridge. His introduction comes via George Thompson whom he played under with Odhams Press Band earlier. Denzil is also allowed to conduct the band whilst training.




An undated (though around this era) and unknown location (possibly Fairford?) photograph donated by John Brancker, who's father Jack, was percussionist with the band.


1955, Contests.


March 5th. Hammersmith, 2nd. playing Severn Suite, Elgar

June 26th. Romford, 2nd. playing Clive of India, Holbrook

July 9th. Fairford, 3rd. playing The Severn Suite, Elgar

(the last contest George Thompson conducts before leaving for Grimethorpe)

July 16th. Brighton, 4th. playing The Severn Suite, Elgar

November 19th. Reading, unplaced, playing Tournament For Brass, Ball




Film.
The Band featured in the Ealing Film: "Value for Money" with Diana Dors. (Video copy available)


The band recorded their sections of the film in Batley, Yorkshire, over a weekend in January 1955.
Cornet player Alan Fippard recalls;
"During the filming of Value for Money, the band spent 2 to 3 days at Pinewood Studios filming the end wedding reception scenes. On one end of the day Jack Hill, who also rode a motorbike offered to give Johnny Du Bois a lift home. John rode pillion with his Baritone across his back whilst Jack who normally carried his trombone on his back had to hang it across his chest, all was well until they reached a T junction where in Jack found he couldn't quite make the turn and ended up in the ditch! Luckily nothing was bent or broken to men, machine or instruments."

Membership.
Principal Cornet Alan Smith leaves Hanwell after three years as soloist to join the Munn & Feltons Band of Kettering, as Principal Cornet.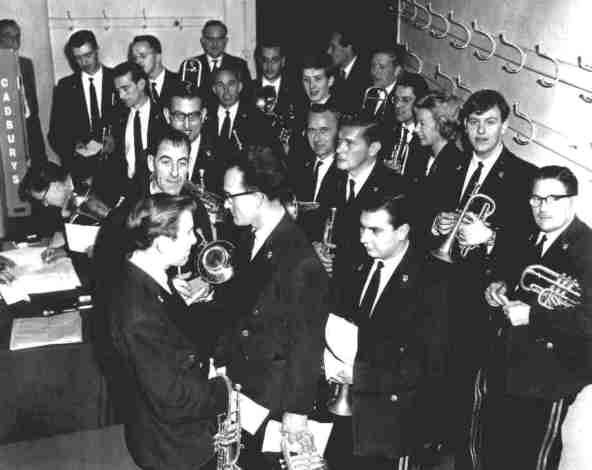 Photograph thought to be taken at probably the 1957 Area contest at the Central Hall, Westminster.


Left to right are; Albert Osborne, principal cornet, 2 unknown,Billy Keene, solo cornet, Roy Beesley, tenor horn, George Lee, flugel horn, unknown cornet, Johnny Luckett, solo euphonium, (signing), Frank Bing & Laurie Butland, tenor horns,
Dorothy Kilvington, solo cornet, next row Cec Davies, euphonium, Tommy Evans, trombone, Alan Fippard & Colin Young, cornets, Jack Hill, bass trombone, .
The final row is Ray Norton & George Groom, trombones, Tommy Collins, E flat bass, Johnny DuBois, 1st. baritone & Len Bryant, E flat bass.
Players missing in the picture would have been Len Atter, Mike Edwards, B flat basses & Arthur Buckland, 2nd. baritone.


1956, Contests.


April 7th. Area Contest, unplaced, playing Orion, Bantock

June 9th. Brighton, unplaced, playing Orion, Bantock

November 24th. Reading, 1st. playing Resurgam, Ball



Cornet player Alan Fippard recalls;
"There was a very memorable performance at Reading Contest in 1956 when we played Resurgam with Eric Ball in the box. We knew we had played well, because when we finished playing (one of the most evocative endings to any test piece) there was a moment of absolute silence, then the hall erupted! In his announcement of the results Eric Ball said that the performance of the winning band was exactly as he envisaged it when he wrote the piece!
It doesn't get much better than that"



Hanwell playing at the Earls Court Radio Show in either late 1956 or early 1957. The programme was called 'The Country Comes to Town' and was basically an indoor agricultural show.
The players visible are;
David Noad, soprano, Charlie Leadbetter, principal cornet, Terry Dewhurst, solo cornet, Percy Pitkin & Roy Beesley, tenor horns, Frank Bing, baritone, Johnny Luckett, solo euphonium, George Groom & Tommy Evans, trombones, Mike Edwards & Len Bryant (almost seen) on B flat basses.



1957, Contests.


February 24th. Islington, 2nd. playing Beethoven's 9th. Symphony

April 13th. Area Contest, 3rd. playing Beethoven's 9th. Symphony

June 8th. Brighton, unplaced, playing Beethoven's 9th. Symphony

October 26th. National Finals, 13th. playing Variations, Vaughan Williams




1958, Contests.


February 9th. 1st. playing Moor of Venice, Alwyn

March 18th. Area Contest, 3rd. playing Moor of Venice, Alwyn

April 19th. Tunbridge Wells, 2nd. playing Moor Of Venice, Alwyn

June 7th. Brighton, 2nd. playing Moor Of Venice, Alwyn

July 5th. Weymouth, 1st. playing Sunset Rhapsody, Ball

November 22nd. Reading, 4th. playing Moor of Venice, Alwyn
(

recording available)


Alan Fippard (cornet) remembers;
"There has always been mutterings at contests, mostly by the non-winning bands, or their supporters, that 'how on earth can an adjudicator give only one or two points between the top bands…. its ridiculous ' or similar comments. At the London and Home Counties Area, for 1958, Henry Gheel was the adjudicator, and he gave 15 points between the first and second bands, and 10 points between the second and the third!
Whether he genuinely believed the top bands deserved the points he gave, or he was saying "pick the bones out of that!" we will never know, but suffice to say the following year conformed to the norm."




1959, Contests.


April 11th. Area Contest, unplaced, playing Wuthering Heights, Raynor

May 18th. Hove, 1st. playing Labour & Love, Fletcher

May 23rd. Tunbridge Wells, 1st. playing Labour & Love, Fletcher

June 13th. Brighton, unplaced, playing Wuthering Heights, Raynor

June 27th. Romford, 1st. playing Wuthering Heights, Raynor



July 4th. Weymouth, 1st. playing Labour & Love, Fletcher



November 21st. Reading, 1st. playing Wuthering Heights, Raynor (

recording available)



Membership.
In September 1959 a young David James joins Hanwell on the front row whilst Principal Cornet of the National Youth Brass Band of Great Britain. He is awarded a scholarship at the Royal Academy of Music.

Appointment.
In 1959 Eric Bravington is appointed Musical Director on a permanent basis. Two years later he retires from playing to take on the post of Managing Director of the L.P.O.

Hanwell in Trafalgar Square.


Len Atter remembers;
"Hanwell was engaged to play at a British Union for the Abolition of Vivisection rally in Trafalgar Square in 1959, hence the picture of us at the base of Nelson's Column.
The most famous celebrity was publicised to be Jayne Mansfield, but she didn't show. I think that must have been the first engagement, but we also did two Sunday afternoon concerts for that organisation at the Richmond Theatre,
where we supported, or were supported by, several showbiz stars of the day, though the only name I now recall was Elsie Randolph. One of the shows included a short item, the BUAV Dog Rescue March, written by their President's pianist wife
(initial R - I believe for Rona), which was arranged for us at only a day or two's notice by our principal cornet Bert Osborn. We must have impressed favourably because the Association's President, Randolph Wren, offered that they should link more permanently and sponsor the band.
We rejected the approach simply, as I understood it, because our Committee couldn't really see Hanwell Band on the contest stage or in the broadcasting studio as the Band of the British Union for the Abolition of Vivisection! Randolph clearly wasn't affronted by rejection, however, as he subsequently was Band President for some years."

Cornet player Alan Fippard remembers;
"In all the years I played with Hanwell we always rehearsed in the small hall behind the Red Lion pub in Boston Manor Road, Hanwell. I seem to remember being told that Reg Bravington either got the use of the hall for free, if not, at a very reduced rate, as I remember the band always bought the landlady a large bouquet of flowers and a gift worth £20 each Christmas as a way of thanks. I noticed through Google that it is no longer a pub although the structure remains as I knew it. When I joined the band as a young schoolboy I didn't understand the grown up brass band world of contests and how bands were graded in sections, so was unaware, initially, that I was playing in what was possibly the best band in the London area. This ignorance also extended to the reputations on the band members, suffice to say I knew I was the worst player in the band.
The two most formidable people were George Thompson & Reg Bravington. George was, what I came to realize later, typical Yorkshire man. He was blunt, enthusiastic and although he could be caustic you couldn't help wanting to get his approval. I remember his little encouraging homilies like "...b----y cornet players -10 a penny." also " the only excuse for missing band practice is a death in the family, and that must be your own". George was also athletic, at Brighton Contest on Rhapsody in Brass, he not only managed to let the baton slip from his hand whilst giving an emphatic cross beat toward the trombones, he also leapt in the air, with both feet off the stage, during the end part of the third movement!
I always remember Reg as wearing an overcoat, a trilby and smoking a pipe. His word was law on all matters non musical, but always had things running well organized and under control. Some others I remember; Len Burton was the Soprano player, he was short, slightly rotund and had a large moustache in to which the cornet seemed to disappear when he played ! He had a terrific sound and could sail up over the band. I remember we were doing the May Day Parade marching from the Embankment to Hyde Park Corner, there were 10 bands marching in pairs, we were the lead band and Len would play our march then busk to the band behind us!
Denzil Stephens was the Euphonium player when I started and not long after I had joined he asked me if I would like him to me give some free tuition for half an hour before practice, which I leapt at, and had some very useful lessons for a few weeks!
Another couple of characters were Jack Hill (bass Trombone) and Johnny DuBois (Baritone) known as "Flash" because he rode a BSA Gold Flash motorcycle. Jack always reminded of Danny Kaye due to his infectious laugh and unruly hair. Arthur Buckland was another stalwart bass player, who suffered with "bad" legs. I'm not sure if it was the result of a war wound or arthritis, however he contained the pain behind a screen of alcohol, which on one occasion, on returning from Weymouth Contest, resulted on an episode straight out of "Carry on Banding" when it took 4 of us nearly 20 minutes trying to get Buckey out of the coach. The old type coaches had narrow doors with 2 or 3 steps down and Buckey insisted on steadying himself by wedging his legs either side of the doorway and those that were in couldn't get out and those who were out couldn't get in....happy days."
Of all the contests that one plays in, the one you tend to remember the most is the finals at the Royal Albert Hall (no hanging "mushrooms" in those days), it's the big one and you are mixing with the top bands in the country. I must have played 5 or 6 times at the Finals and remember that the atmosphere was electric and by the middle of the draw the hall was filling up, the cigarette/pipe smoke (it was allowed in those days) was getting lower and the temperature was rising, unless you played early.
This is where my memory fails me. I always thought that Hanwell once drew the dreaded number 1, but the records seem to show that we actually drew number 2 twice. However, the scenario was the same, the Hall was cold, almost empty and lacking any kind of "buzz" and as Reg Bravington always called a rehearsal at 06.30, and usually at the Salvation Army Hall in Hammersmith, we were more ready for breakfast than a Test Piece."




Go to Section 2; 1960 - 1978

Go to Section 3; 1978 - 1983

Email us here


DS Al Fine