The Euphonium Collective

Welcome to our Picture Gallery.


The Collection




Besson, London & France;
4 valve Tenor Horn E flat 1925 s/p
Enharmonic 3 valve Baritone, 1915 s/p
Enharmonic 3 valve Euphonium, 1908 s/p
Enharmonic 4 valve Euphonium, 1919 s/p
Enharmonic 4 valve Euphonium, 1921 s/p
Zephyr 5 valve Euphonium, 1905, brass, valves replated
New Standard 4 valve compensating Euphonium, 1956 s/p

Boosey & Co. London;
Solbron 3 valve Euphonium, circa 1911 brass

Boosey & Hawkes, London;
Imperial 4 valve compensating Euphonium, 1947 brass
Imperial 4 valve compensating Euphonium, 1980 frosted s/p

Conn, USA;
3 valve Euphonium (small, baritone), 1933, lacquer (originally s/p, donated by Doug Ruby from the USA)

Courtois, France;
4 valve Euphonium, circa 1900, brass

F.E. Olds (USA)
2 valve (rotary & piston) marching Baritone in G, 1970's nickel plated
Ditto horn in E flat

Hawkes & Son, London;
Dictor semi-compensating 4 valve Euphonium, silver plate
5 valve Euphonium, circa 1888, s/p no number

Highams, Manchester UK;
5 valve Euphonium, 1891, brass
5 valve Euphonium, 1902, Rex Model s/p
4 valve 'Contesting' Euphonium, circa 1910 s/p

Gisborne, Birmingham, UK;
4 valve non comp Euphonium s/p

Martin; (USA)
E flat Sousaphone, 1958, gold plate

Salvation Army, London;
Super Triumphonic 4v comp Euphonium, March 1965 s/p
Bandmaster 4 valve Euphonium, May 1947 s/p
Bandmaster 4 valve Euphonium, November 1932 frosted s/p
Triumph 4 valve compact Euphonium, 1915 s/p

Willson, Switzerland;
4 valve compensating Euphonium 2950, 1990, s/p
4 valve compensating Euphonium 2900, December 2004, lacquer

Donor/repair/spares instruments;
Besson Enharmonic 4v Euphonium, body & 2 valves only
Ditto 1893 missing 3rd. valve/2nd. slide
Butler of Haymarket 4 valve Euphonium, circa 1900, s/p




A 4 valve compensating Willson 2900 Euphonium, manufactured in December, 2004.

Nestled in a valley surrounded by the Alps in the village of Flums, Switzerland, just a couple of hours drive from Zurich, is the home of the family owned and operated Willson Band Instrument Company, builders and manufacturers of the world's finest low brass instruments.

Long recognized by professional musicians in North America, Europe, the Orient and Australia as THE euphonium maker, Willson has more recently put its expertise to work in creating a family of world class professional tubas in Eb, CC, F and BBb; a line of large and medium bore trombones; and a unique ensemble of French horns.

Willy Kurath Sr., a clarinetist and tubist who had earned the coveted Swiss National Brasswind Instrument Maker Certificate started a band instrument repair facility in 1950 and added the fields of brass instrument research, design, development and manufacture. By 1955, Mr. Kurath had decided to devote his energies and considerable talents to the creation of the world's finest low brass instruments. Old world hand craftsmanship and precision Swiss technology are combined here to ensure the consistency and quality control in this specialized, limited production of every Willson instrument.

Every step in the manufacturing process is personally supervised by Willy Kurath, Sr. and his son Willi, Jr. - a euphoniumist, business man and also the proud holder of the National Brasswind Instrument Maker Certificate. Unique among brasswind instrument producers, Willson ensures the quality and uniformity of its products by manufacturing all of its own parts.

The Willson Company aims to create the highest quality brass instruments by: maintaining intimate contact with musicians to assist with research and development; combining the most highly skilled hand craftsmanship with modern manufacturing technology; limiting production with a small, but highly skilled and dedicated work force; and to adhere to strict and respectable business principles, while maintaining a close, friendly relationship with its customers.





A Salvation Army 4 valve non compensating Euphonium, in silver plate, circa 1933.
This instrument was hand made at the St. Albans factory and sold through Judd Street.
It required a 4th. valve stem that had broken and minor work to the valves.
The first pic above is prior to cleaning, the one below is as it is now. It is a very heavy instrument,
made of thick gauge brass and with a thick coating of silver plate.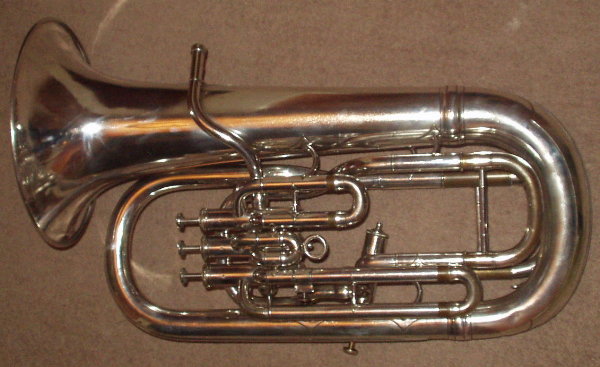 It gives a wonderful dark sound with just minor intonation problems.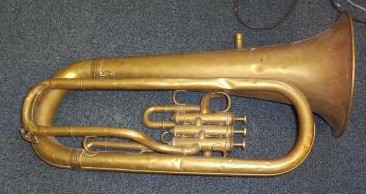 Ths is a Boosey & Co. 3 valve Solbron Light-Valve Euphonium, in brass, circa 1920.
This instrument is in very good condition with just minor dents.
The copper plate on the valves also gives good compression and the sound is excellent.




An F.E. Olds marching Baritone, with one piston, one rotary valve and pitched in G.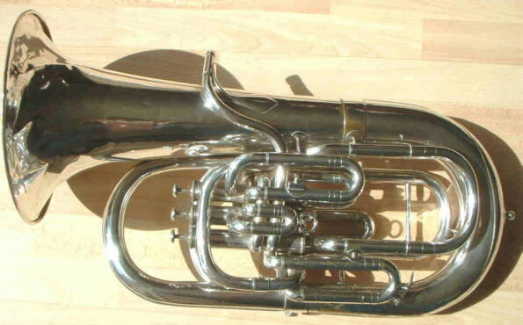 A rare Besson Enharmonic euphonium,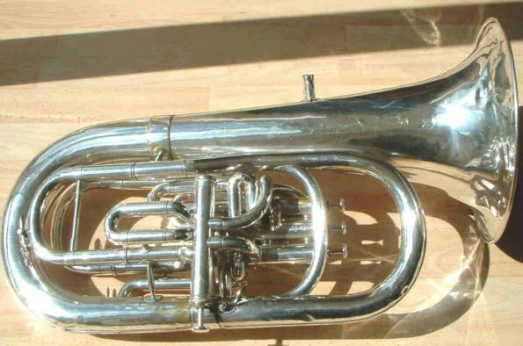 The reverse view showing the 4th. valve position.

Basically, on the enharmonic euphonium, the mouthpipe leads into the 3rd.valve. If the 3rd. valve is not used, the windway leads through into the 1st. & 2nd. valves in the normal way, and back through the 3rd. to the bell.
If the 3rd. is operated, the windway is lead through the 1st. & 2nd. valves by a different route. including a tuning slide, and in also going through different passages in the 1st. & 2nd. valves, will be directed through seperate longer loops of tubing
(if the 1st.& 2nd. are operated with the 3rd.)
The idea was that it is superior to the compensating system in that the windway is not required to pass through each valve more than once.
Air is redirected back through on compensating loops.
As with the compensating system, the whole range of valved instruments except Soprano Cornet was available, the obvious weight problems when you get to tubas in this range must have been enormous, which is probably why only 3 valve models were made.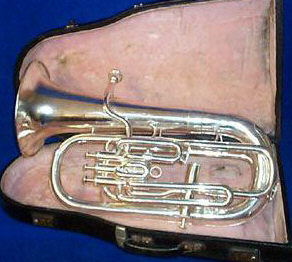 The latest addition, a Highams 'Contesting' euphonium,
this time a 4 valve non-compensating 'Class A' model, made circa 1914. Recently overhauled and replated.
Note the very low position of the 4th. valve.





An old Campbell & Sons 3 valve euphonium, made in their factory at Trongate, Glasgow, around 1900.



This instrument did blow ok but does have bad 3rd. valve tubing damage and has now donated
its tuning slides for the Highams 5 valve instrument below.




Sue's previous Boosey & Hawkes 955 Sovereign 3 valve compensating 'light bell' baritone.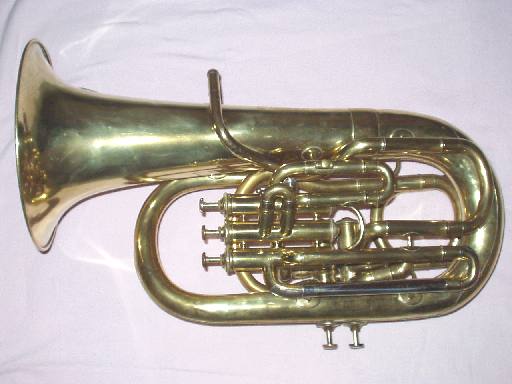 A Highams of Manchester 5 valve, non compensating euphonium.





This is a "Clearbore" model, estimated to be made around 1891. It has been amazingly restored to playing condition
by Colin Jeffrey of Sheffield.
It is a 5 valve non compensating model that is beautifully made and has a very sweet sound. Valves 4 & 5 are uncomfortable to use as they are positioned straight, meaning they are pressed upwards when used. It is also difficult to take the weight in your left hand when the first two fingers are required to work valves.
It has its original small bore mouthpiece receiver and has had minor solder work to various joints. Valve number 5 gives a great sound as the bore is at its largest on leaving the valve section.




A Highams of Manchester 5 valve, non compensating euphonium.




Another "Clearbore" model, dated 1902. This was missing two slides, and a 4th. valve stem & cap. All the repairs are now complete.
This design is so different from the earlier model. The instrument is very long (tall) and would prove a problem sitting too close to the next player. It favours the early Sax design where all the tubing is below the valve line, making it a plumbers nightmare!
It has its original small bore mouthpiece receiver.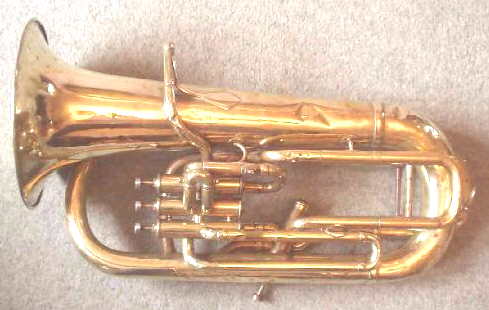 A 4 valve Courtois Euphonium circa 1900.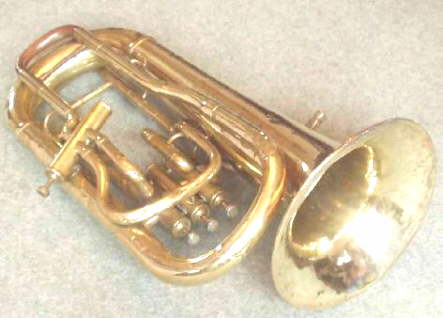 This instrument is a 4 valve non compensating model dating from around 1900.
The seriel number under the 3rd. valve cap dates it at 1860, so maybe they are from another instrument ?
The last date on the bell engraving reads 1889.
The instrument (brass) was rescued from a school collection and is very badly dented, but it plays beautifully!
The conversion to low pitch is not too bad, though too much tubing on the 4th.valve slide makes it flat.
We have fitted a large size mouthpiece receiver.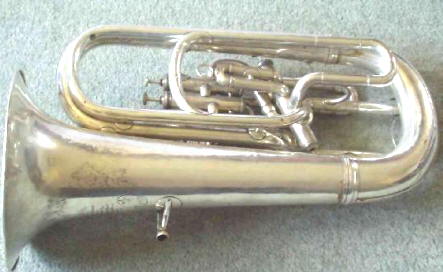 A 4 valve Hawkes Dictor euphonium circa 1918.



The bell engraving.

This is our latest addition to the collection and is a rare Hawkes model dating around 1918, where the instrument is only compensated on the 4th. valve, which gives you B (C# treble clef) and not C (D treble clef).
The additional link of tubing from valves 3 & 4 can be seen on the reverse picture.
On the bell are circles that give the fingering (3 & 4) for C# below the stave (bass clef).
It is an unusual design, the 4th. valve casing measures some 8 inches in length.
It has been converted to low pitch but still has the old medium bore mouthpiece receiver.




A 3 valve Besson euphonium circa 1915.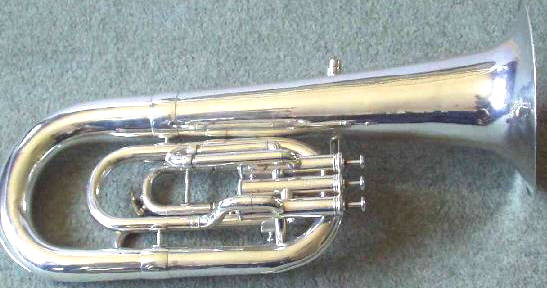 This is a French Besson Euphonium, kindly donated to us by a friend, and dates around 1915. It is a 3 valve non compensating instrument
that was replated a while ago, though damage to the bell is still quite noticeable.
It is strange to hold as the original Sax design has no hand-bar to rest the thumb. The instrument is very light and well balanced, the brass though is of thin construction.
Once again a large receiver was fitted to the previous medium bore mouthpiece shank. The instrument has now been donated to a brass group in the Salvation Army in Italy.





Collecting Old Euphoniums.


The sound of the euphonium has changed (along with most wind instruments) since its early production days. Instruments today have a bore (size of tubing) that's larger than ever before, capable of producing great volume in all registers. In addition, bell sizes and flares have increased as well, the largest euphonium bell today measures some twelve and half inches across.
These 'improvements' do have a downside, I feel, in that the sound can be become bland, and players who do not 'fill' the instruments properly, produce a tubby or hollow sound, often mistaking volume for tone.
The instruments in my collection date from 1891 to 1992 and incorporate virtually every change in design that is known of, and offer a wonderful variation in sound, and can be heard in all my recitals.

The Hawkes "Dictor'' euphonium dates from around 1915 and has been converted to low pitch. Once again, with the Boosey compensating system patented, Hawkes & Son offered this model which was only compensated on the 4th.valve.
The idea being that valves 1 & 3 were in tune on those fingerings, and that valve no.4 gives C sharp instead of the usual D. It works well providing you remember those fingerings, but the position of valve no.4 leaves the left hand very cramped, and the luxury if having a 4th.valve meant not having to use valves 1&3 together.
The 4th. valve itself is nearly 8 inches in length. Hawkes instruments were extremely well made, using some of the thickest gauge metal. Euphoniums & tubas were very solidly constructed.

The Courtois 4 valve euphonium. Anton Courtois made very fine instruments in France and after a few quiet years in the U.K. they are once again producing top of the range instruments for brass bands and were sponsors of the famous Fodens Motor Works Band for many years.
This model was made around 1900, certainly no later than 1903, and distributed by Chappells of New Bond Street in London. It has no compensating system, relying on the 4th. valve to offer alternatives.
The instrument is in pretty poor condition with many dents and a badly damaged (and repaired) bell. Dents in instruments can affect tone, response and tuning. The major ones have been removed, others would involve complete dismantling of the instrument. When offered to me, even in its worse state, the instrument blew beautifully, with a remarkable clear sound, lighter than most, with a very free response. One can only imagine what this was like brand new !
The conversion from the old high pitch (A452) to low pitch (A440) provides slight intonation problems and use of the 4th. valve is avoided at the moment as too much tubing was added, making it flat. This instrument is also in its original brass finish.

The Highams Clearbore 5 valve model was built in 1891 at their factory at 127 Strangeways, Manchester. Josef Highams was a leading brand of its day and one of the first to offer top class instruments as prizes in brass band competitions. Higham's also supplied the famous Black Dyke Mills Band with their first set of instruments when John Foster adopted the Queensbury Band.
The idea of an extra 5th. valve again stems from the problem of intonation on low notes using all the valves. When individual or pairs of valves are used, the tubing supplied is enough to play in tune. When combinations of 3 or more are used, the tubing falls short, and the notes are sharp. In small instruments like trumpets or cornets, this is barely noticeable but in larger baritones, euphoniums & tubas, as much as 4 inches of extra tubing is required. Highams and others, offered a 5 valve model which gave alternative fingering to get lower notes in tune. In fact, in its early days, this was a better system as air was direct through all the tubing and not doubled back as in the compensating system. Even as late as the 1960's, compensating models could be quite 'stuffy' to blow, though these days the system is near perfect. Unfortunately, it did mean learning another fingering system and part of the attraction of learning brass band instruments was that they all read the same ( treble ) clef and all use the same fingering, making changeover very easy. As most players of that time were from the mills or factories, they would have been self taught or had little instruction, so the 5 valve models were mostly used by professional musicians or well tutored military bandsman. Valves 4 & 5 on this instrument are placed at right angles quite low down and this makes the instrument uncomfortable to hold and use. In addition, its conversion from the old high pitch (where A=452) to today's lower pitch of (A=440) adds a considerable amount of tubing to the main slide, moving the body of the instrument away from the user. In spite of all this, it has a beautiful sound, very sweet and lyrical. The instrument was saved from a school band collection. It is unplated, finished in raw brass and is in remarkable condition for its age.
The restoration work was done by Colin Jefferies of Sheffield. The instrument retailed at about £11 when new. Silver plate was an extra £8 !

The second Highams 5 valve model, was made in 1902 and is a completely different design to that of the earlier model.
This design, where all the tubing is below the valve line, was used by Sax when he developed his family of Saxhorns. It is not a very comfortable design and almost a 'plumber's nightmare' as far as tubing goes.
This instrument was missing 2 tuning slides and had broken valve stems, all of which have now been repaired and replaced. It's silver plated, which has gone a long way protecting it for all these years.

The Willson euphonium is made in Flumms, Switzerland and is, I think, the Rolls-Royce of euphoniums today. Its rarely seen in this country as Boosey & Hawkes and Yamaha have the lion's share of the market. It's most popular in Europe and the U.S.A. With Boosey's patent expiring in the 1970's, all manufacturers now offer this compensating system as standard.
To me the Willson has the perfect combination of large bore tubing, gradual bell taper and slightly smaller bell flare, retaining the singing qualities of earlier instruments alongside the volume required for today's music. Built in 1992, the instrument is silver plated over brass.
Willson workmanship is admired throughout the industry.

One final obstacle exists in performing on these old instruments today.

Back in 1891, brass band instruments (and most woodwind) were made in what was called philharmonic pitch or high pitch, meaning that the tuning note 'A' vibrated at 452 vibrations per second.
Yet in certain opera houses in Europe as late as the 1920's, instruments were being built at a pitch of 'A' = 432 ! To add further problems the British Army at Kneller Hall adopted low pitch in 1928, taking 'A' as 440. It was of course impossible to play any of these instruments together and finally in 1963, Boosey & Hawkes and other leading brass instrument manufacturers finally dropped high pitched instruments from the catalogues.
For the mighty Northern or works backed bands it was not a problem, they simply re - equipped with the new range. For the town or village band who could not afford new instruments, conversions could be made to bring the instruments down to pitch. At its best, this proved satisfactory, at its worst, it was disastrous and caused immense tuning problems.
It did open up a new market for the larger bore American instruments, such as Conn, Olds and Vincent Bach, this in turn, introducing new larger bore ranges by manufacturers in the U.K.





Email us here.


Return to the homepage go to the picture gallery index