The Euphonium Collective



The Music of Terry Treherne





Terry Treherne is an enthusiastic devotee of brass bands and acquired his musical education through the Salvation Army in Bristol. Later he became a peripatetic teacher of brass and in this capacity formed and conducted many school bands.

In 1989, Terry was appointed Musical Director of Alder Valley Brass, a championship section brass band based in Aldershot, Hampshire. During his time there, he led them to several contest successes including the Southern Counties Area Qualifying Contest in March 1991 to enable the band to play in the National Championship Finals in the Royal Albert Hall. Terry has conducted several well-known brass bands in various parts of the country, as well as Salvation Army Bands in Exeter and Hillingdon.

In addition to conducting, Terry has composed and arranged a large number of choral, instrumental and orchestra pieces, although the majority of his works have been for brass bands.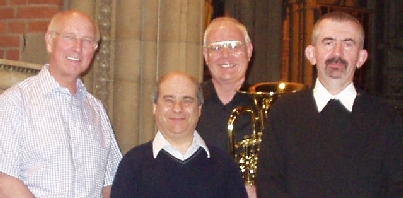 Composers Terry Treherne (left) and Tony Osborne (front) with me and accompanist Malcolm Stowell following premieres of their works at my 22nd. Euphonium Recital, May 6th. 2006 St. Mary's Slough.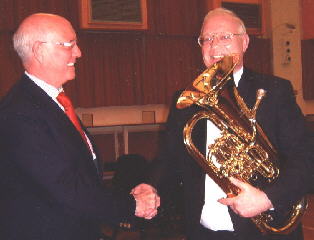 with Euphonium soloist Charley Brighton at BBC Maida Vale Studio 1



New Additions

'Celebration' a new 4 movement work composed for Charley Brighton and the launch of the new Willson Celebration UK Euphonium models 2011. Available with both piano & brass band accompaniment.

Be Well (dedicated to Joe Miserendino, 1932-2010) Euphonium solo with pianoforte accompaniment

Concertino for Euphonium with pianoforte accompaniment, Wind Band version available shortly

Nocturne - Trio for Tenor Horn, Baritone and Euphonium (with pianoforte accompaniment) Brass Band version available shortly

Joshua, David and John (Originally scored for brass band now transcribed for two euphoniums and two Eb basses)

Let all the World Sing (originally scored for brass band, now transcribed for organ at the request of Charley and Sue Brighton for their wedding last September)

Celebration Flourish for Brass Band (One of the six finalist for the Ohio Brass Band Festival Composers Competition)

South Molton March (Dedicated to the South Molton Town Band)

Festival Flourish (Fanfare for orchestral brass with percussion)

Concertino for Clarinet with pianoforte accompaniment, Wind Band version available shortly

Organ Fugue in G (opus 7 No.3) by Marcel Dupre (transcribed for Brass Band)

Sinfonietta (Major work based on an original theme)
Previous Scores

Infant Holy, Infant Lowly arranged for Charley Brighton with Malcolm Stowell providing the organ acconpaniment.
Premiered at St. Mary's Slough, Saturday December 5th.Infant Holy

Maestoso Spritoso for Euphonium & Piano. Dedicated to Charley Brighton & Malcolm Stowell. Listen to the premiere here
Brass band accompaniment now available. This will be premiered by Charley Brighton with the Staines Salvation Army Band on November 7th. 2009.

The Mill Pond a new duet for Baritone & Euphonium with piano, composed as a wedding gift for Sue Vel & Charley Brighton.
Listen to the premiere here

Tranquillity for Euphonium & Organ, listen here. Also available with wind band accompaniment

Fly Me To The Moon for Flugel Horn & Brass Band, also available in a duet version for E flat Tenor Horn, Euphonium & Piano

Lo, How A Rose E'er Blooming for Euphonium & Wind Band

Whence is that Goodly Fragrance for Trombone ensemble & Brass Band

Good News for Cornet ensemble & Brass Band based on the carol Unto Us A Child Is Born

In Tuneful Accord for Mixed Voices, Brass & Organ, based on the hymn tune Laudate Dominum, and arranged especially for the 1000th. Saturday Lunchtime Concert at St. Mary's Slough, July 5th. 2008
Listen to the premiere live recording here

Festival Celebration for Wind Band based on an original theme

Swing Low negro spiritual for Brass Band


Concertante
(March 2005) for Euphonium and String Orchestra.
Now available with brass band accompaniment


The work was written for Charley Brighton, originally for Euphonium & String Orchestra. The Euphonium & Piano version was premiered at St. Mary's Slough with Malcolm Stowell on Piano on May 6th. 2005.
Concertante is an extended, single movement pastoral work. It unfolds slowly in 4/4 time (moderato con espressivo), followed by a lilting 6/8 (allegretto con spirito) with decorative semiquaver passages for the soloist.
The music gently subsides and the main theme (heard briefly in the opening phrase) is heard in full (moderato con espressivo), and developed in various keys.
The earlier 6/8 (allegretto con spirito) returns, more rhythmic than before and leads into the finale (maestoso), where the main theme once more is heard before a brief coda (allegretto) ends the work.

Listen to the premier of the piano version from my recital on May 6th. at St. Mary's Slough, with Malcolm Stowell, piano.

Listen to the wind band premiere from Sunday, February 10th. at St. Paul's Church, Covent Garden by Charley Brighton, with the City of London Winds, conducted by John Andrews.



The Angel's Song
A new arrangement for Euphonium & wind band (October 2006)
This traditional tune is now featured as an expressive solo with light variations, for euphonium & winds, just in time for Christmas!
The melody apears in a simple setting that becomes more decorative in the accompaniment as it progresses. Trumpets and low brass provide the link (and change of key) to verse two where the solo clarinet takes the tune, allowing the soloist to flourish with semiquaver figures up to high C# (tc).
At score letter F, the tempo slows to Andante and the time signature changes from 3 to 4 beats in the bar for the central, slow middle section, now back in the original opening key of C major. This time the Oboe takes the melody and the soloist shares counter melody phrases with the rest of the accompaniment.
The brass return at the Moderato (letter G) to once more, lead us back into 3 beats in the bar and the key of A major (tc). The earlier sections return one more time before the soloist is left alone to supply the short coda, joined on the last chord by upper woodwind.

Listen to Angel's Song

Also available for tenor horn, baritone or euphonium and brass band.



Sincerity
solo for Baritone and brass or wind band (June 2006)
A solo dedicated to Susan Vel on her birthday. The theme is from the Concertante for Euphonium.
Listen to Sincerity
Also available for Soprano cornet solo with brass band



Simplicity
duet for Trumpet & Euphonium (January 2006)
Written for Mark & Kevin Hill of the U.S.A.
An easy, gentle flowing duet (andante con espressivo legatissimo) with G being the highest note at the top of the stave for both parts.
Available with piano accompaniment.
Also available in a version for Trumpet & Tenor Horn.
Listen to the Baritone/Euphonium version.



Recollections
(January 2005)
Read the review from Winds Magazine here
A beautiful slow solo written to recall the great times we shared at Alder Valley Brass Band back in 1990.
A solo line without accompaniment, opens the work before the band enter in bar 5 with a gentle, lyrical setting. A key change keeps the remainder of the work in concert A flat and at bar 69 the soloist is given decorative semiquaver passages over the main theme. These are also used in the coda to bring the work to a flourishing end.
Available with wind band, brass band, piano, organ or string orchestra accompaniment.

Recollections wins 1st. Prize!
Terry conducts the National Champions! Read it here.
In the Northop Festival Composers Competition, the brass band version of Recollections won first prize, judged by Paul Mealor and Brett Baker. Read the full story here.
Listen to Recollections



The Coventry Carol
(September 2005)
I asked Terry to write some variations on a Christmas theme, suggesting this traditional carol and the result is a wonderful new solo for Euphonium & Winds.
The soloist introduces (and closes) with the main melody and embarks on a series of flowing counter melodies over changing accompaniment and key signatures.
This solo was premiered on Monday, December 12th. with the B.B.C. Elstree Concert Band, conductor Mike Crisp. The concert for the Voice of the Listener Trust took place in St. Cyprian's Church, London.
Listen to Coventry Carol
Brass Band version now available!


The Impossible Dream
(June 2005)
For Euphonium & winds or brass band, from 'Man of La Mancha' by Mitch Leigh arranged by Terry.
The beautiful melody unfolds in the opening section followed by a counter melody section from the soloist at letter C. The difference in this arrangement is the setting at letter D of the theme in 12-8 time as opposed to 9-8. Here the soloist offers decorative rising figures (up to high D with a trill) before the lilt of 3 in a bar returns at letter G, a bold scale like figure that links through to a percussion feature at letter H. Here the soloist links semiquaver passages through to the reyurn of the main theme at letter I, climbing to the finale high D to finish.
For Euphonium & Wind or Brass Band (lower key if desired) accompaniment.
Listen to Impossible Dream


Speak Softly Love
(April 2005)
The well known theme from The Godfather, composed by Nina Rota. Once again, the soloist opens on his own, setting the scene for the haunting theme, played twice by the soloist before a key change brings light, running semiquaver lines up to treble clef high C#. The coda returns to the main theme once again, ending on high D.
Now available with brass band accompaniment.
Listen to Speak Softly Love



Motivation
(June 2005)
An original work for Euphonium & winds, from an idea by Charley Brighton, realised in a wonderful composition by Terry. A high unaccompanied 4 bar phrase opens the work before the main slow theme is introduced in bar 7. A key change offers a counter melody phrase before a bridge passage takes us into the waltz version of the main tune. Once the band have finished its full treatment of the theme, the soloist returns with running semiquaver passages, before another key change and a cadenza, based on the main theme appears. The finale is a Russian Dance with busy semiquaver runs abound before the coda appears as an Andante espressivo, bringing the work to a grand, slow finish on high D for the soloist.
Listen to Motivation
For Euphonium & Wind Band accompaniment.


Brass Band Compositions;
Marches;
Berry Head (dedicated to Brixham Town Band)
Canterbury (dedicated to Canterbury Salvation Army Band)
Castleton (dedicated to Castleton Brass)
Exeter 125
Spirit of Freedom (concert march)


Fanfares & Extended Works;
Fanfare & Theme, Centennial Celebration
Fanfare for Whitsun (dedicated to the Exeter Salvation Army Band)
Flourish for an Occasion (dedicated to the Totnes Band on their 30th. Anniversary)
Flourish for Band
Fanfare & Flourish, With True Adoration (based on the hymn tune Hanover)
Joyous Celebration (programme opener)
With True Adoration (based on the hymn tune Hanover) for mixed voices, brass and organ
(Premiered at the 900th. Celebration Lunchtime Concert, St. Mary's Parish Church, Slough, Saturday September 30th. 2006)


Original Works;
Diamond Jubilee Suite
Introduction, Theme & Fugue
Out of The Darkness (9/11) (also scored for orchestra)
Overture for a New Day
Festival Prelude, Let All The World Sing (Listen to
Let All the World Sing)

Arrangements;
Negro spiritual, By an' By
Joshua, David And John (based on 3 Negro spirituals) now available for mixed voices, brass and organ
Jesu Joy of Man's Desiring
Maryton (hymn tune) (also scored for orchestra) Listen to Maryton
A Purpose Firm (Dare to be a Daniel), drum feature dedicated to the Exeter Salvation Army Drum Corps


Solos;
Sincerity (Baritone)
Speak Softly Love (Euphonium)
Recollections (Euphonium)
Someone Cares (trombone or flugel horn)
The Angel's Song (Baritone or Euphonium) Listen to The Angel's Song
The Impossible Dream (Euphonium)


Christmas Music;
The Coventry Carol (euphonium & wind band)
Hark The Herald Angels Sing (with organ)
Jingle Bells
Noel, a festive arrangement of the well know carol (with organ)
Joyous News (with organ, based on the carol, See Amid The Winter's Snow)
Joyous Song (Christmas March) Listen to Joyous Song
O Come All Ye Faithful (with organ)
Patapan (Drum feature on the Christmas song)


Music for Orchestra;
All To Jesus (an original composition originally composed as a 4 part choral work)
Crimond (hymn) Listen to Crimond
Deep Joy, Les Hunt, harmonised by Terry Treherne, scored for Oboe & Strings. Listen to Deep Joy
I Surrender All
In God's Tomorrow
Jesus Answer's Prayer
Lead Us, Heavenly Father, Lead Us (Mannheim)
My Humble Cry
O Master, Let Me Walk (Maryton) Listen to Maryton
Out of The Darkness (9/11)
Pass Me Not, O loving Saviour
Pleasure In His Service
Precious Jesus, O to Love Thee (Denmark Hill)
The Lord's My Shepherd (Crimond)
The Wounds of Christ
When Jesus Looked O'er Galilee (Fewster)


Choral SATB;
All To Jesus
Just Like John (Negro Spiritual)
O Saviour Divine
Rise Up, O Soul
Songs of Bethlehem (Christmas Carols)


Female / Children's Voices;
A Child's Friend (2 parts)
A Child's Plea (2 parts)
Jingle Bells
The Gospel Train (Negro Spiritual)
There Is A Green Hill
White Christmas



Male Voices;
Brightest & Best (Spean) with piano or organ
Steal Away (Negro Spiritual)
Sweet Chiming Christmas Bells (with piano or brass ensemble)


To order, email Terry

Brass Band Links



South Molton Brass Band.

Ascot Brass

Torbay Brass Band.

Alder Valley Brass

DS Al Fine